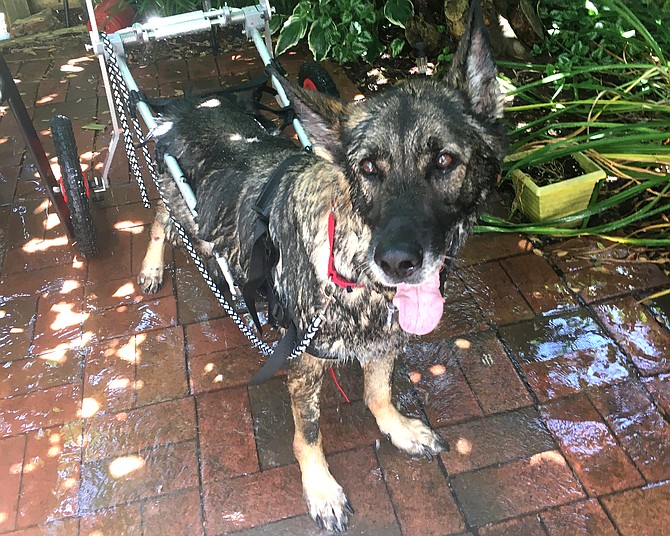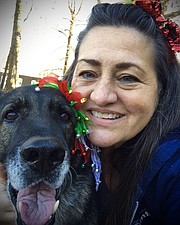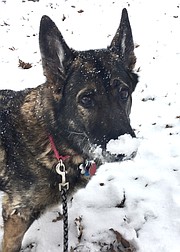 When she met Goldie, she was struck by the label the dog had been given. Goldie was considered "less adoptable." And yet, Goldie, a stray rescue, was the perfect canine for her family, says Karen Fried-Harris.
Losing a dog can be heartbreaking. And that was certainly the case when Fried-Harris lost Goldie back in 2018. Her daughters, who lived with her, quickly worked to fill the void. Each adopted a rescue dog. With the two dogs and the three women, their hearts and home were wonderfully full.
When her daughters struck out on their own, taking their dogs with them, Fried-Harris began to consider getting another dog. Last spring, after the pandemic had kept her inside for months, the weather turned warm and the time was right.

Honoring Goldie and her status as a dog that others had dismissed as being too imperfect, Fried-Harris sought to make her own assessment as she searched for a good fit. She had just one non-starter: her new family member must enjoy the company of other dogs.
Goldie had been a Lost Dog and Cat Rescue Foundation (LDCRF) rescue and so Harris returned to LDCRF for help.
Little is known about Caia's history, but apparently she was found in Puerto Rico, eventually making her way to Arlington and LDCRF. She had some health issues, including a susceptibility to ear infections. But she had a spirit that was palpable.
"Anyone who had the opportunity to be in her presence could feel her inner beauty," according to Kim Williams, Public Relations Manager, LDCRF.
Unfortunately, before the perfect pet parent/s had been found, Caia suddenly became paralyzed. With holistic medical interventions, including acupuncture, she did improve. But Caia continued to have difficulty walking, and finding a good match had grown more remote.
Fried-Harris had Googled degenerative myelopathy and degenerative disc disease, the two potential causes of Caia's lameness. She was told about the allergy shots that Caia would continue to need to keep ear infections at bay. And while concerned about the possibility of extra health expenses, Fried-Harris resolved to meet Caia. What could it hurt? At that meeting, Fried-Harris immediately connected with Caia's gentle soul and brought her home the same day.
A wheeled device to help support Caia's back legs helped her get stronger through ever increasing walks. Soon she was walking without the need for assistance. Today, Caia and Fried-Harris enjoy a full schedule that includes walks, car rides, doggy play dates and trips to the dog park.
"She loves other dogs and gets along with everyone," according to Fried-Harris.
Caia still has setbacks and if she does have degenerative myelopathy, her time on earth may be limited. And so, Fried-Harris and Caia strive to take joy in every single day.
Interested in Adopting?
If you are interested in adding a cat, dog or small animal pet to your household, here are a few local rescue organizations who might be able to help you find your perfect match:
Animal Welfare League of Alexandria
Animal Welfare League of Arlington
Lost Dog and Cat Rescue Foundation
ArPets is a weekly feature for highlighting the well-loved pets of Arlington as well as animals who are available for adoption. If you or your dog, cat, iguana, bunny, rat or any other pet, has an interesting pet story to tell, send email to: joan@joanbradyphotography.com.
Joan is an award-winning Connection Newspapers columnist and local photographer specializing in pets, children and families and contemporary business portraits.