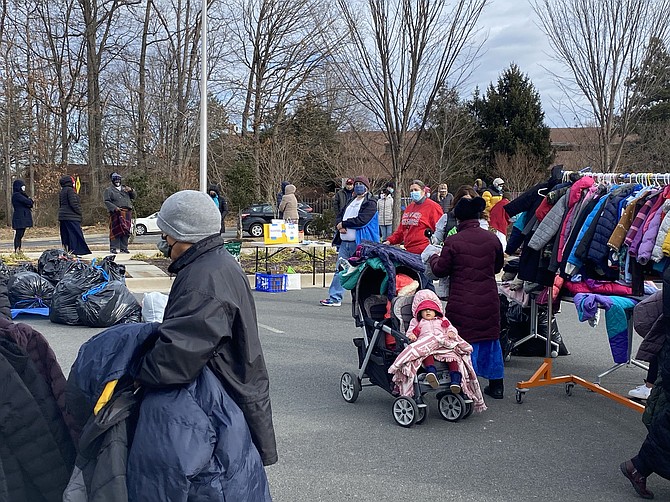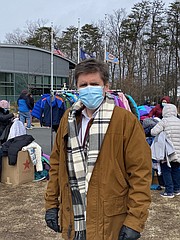 The Hunter Mill District Winter Coat Closet that Cornerstones ran in partnership with the Hunter Mill District Supervisor's office continues to be a much-needed resource for the community. On Saturday, Feb. 6, those in need of coats and other winter items lined up early, well before the 10 a.m. opening, with lines stretching down the sidewalks.
"Those coming to us in need of a coat were successful in finding coats. No one left empty-handed," said Susan Alger, Director of Cornerstones Volunteer and Community Engagement Program.
Community donors offered the clean and gently used items, some still with store tags attached. Volunteers sorted cozy puffer coats to heavyweight quilted parkas with hoods in preparation for the event. Others worked to keep the racks filled for shoppers. Alger reported the distribution of 420 coats, 419 hats, gloves, mittens and scarfs, and 164 5-piece mask packs.
Supervisor Walter Alcorn (D-Hunter Mill District) arrived at the North County Government Center shortly after volunteers counted out the first groups of individuals to enter the parking lot turned coat boutique. Pleased to continue the partnership initiated by his predecessor Cathy Hudgins, he said, "No one should be without a coat in Hunter Mill District or Fairfax County, and the outpouring of generosity from our residents with coat donations has been incredible."
There will be one more distribution on Saturday, March 6, from 10 a.m. to 1 p.m. at 1801 Cameron Glen Drive, Reston, located half a block from Reston Regional Library.
Donations of children's and youths' coats, all sizes, and extra-large adult sizes, 3X and larger, are especially appreciated.
Contact Susan Alger at 571-323-1383 about volunteering at the Winter Coat Closet.