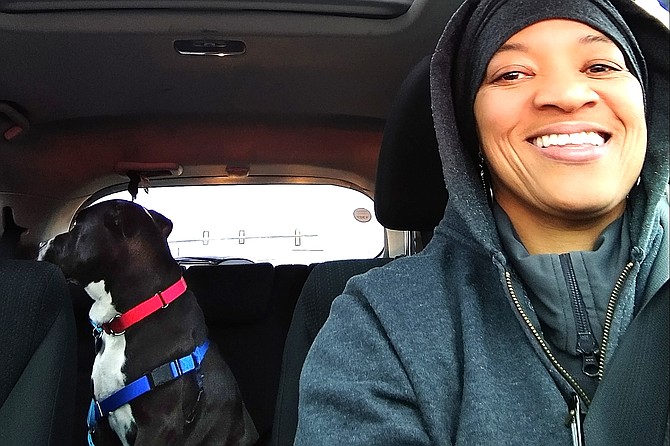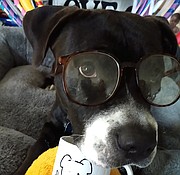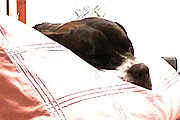 Remember that very smart dog, Brisket? He was tired of living on the streets. Cold and hungry, he hopped a ride to the local animal rescue with a local newspaper delivery driver.
As Brisket was warming up in his new foster home, Sophia was deciding she was ready for a dog. She only had a few things on her wish list; a medium-to-large sized dog who would enjoy long neighborhood walks and hikes in Great Falls National Park.
Voila! There was Brisket's profile on the Animal Welfare League of Arlington's website. Sophia was immediately drawn to that adorably expressive face. And when they met in person, she was enchanted by his sweet shyness and the way he ran to fetch his toys to show her. With walking a big priority, she was delighted that he was a perfect gentleman on his leash. Yup, she knew he was the one.

Sophia and Brisket love their morning walks together. Once they have started their day, Brisket is raring to go. So Sophia has had to develop some creative tactics and quiet time activities, so as not to annoy the downstairs neighbors too early. Most mornings, if Sophia hasn't been able to trick him into an after-walk nap by pretending to go to sleep herself, Brisket can be found silently people-watching from their balcony.
Bringing the "loving, playful, snuggler with the huge appetite" home has brought much joy and laughter.
Life for these two is just beginning, please join me in wishing them all the best.
Interested in Adopting?
If you are interested in adding a cat, dog or small animal pet to your household, here are a few local rescue organizations who might be able to help you find your perfect match:
Animal Welfare League of Alexandria
Animal Welfare League of Arlington
Lost Dog and Cat Rescue Foundation
ArPets is a weekly feature for highlighting the well-loved pets of Arlington as well as animals who are available for adoption. If you or your dog, cat, iguana, bunny, rat or any other pet, has an interesting pet story to tell, send email to: joan@joanbradyphotography.com.
Joan is an award-winning Connection Newspapers columnist and local photographer specializing in pets, children and families and contemporary business portraits.