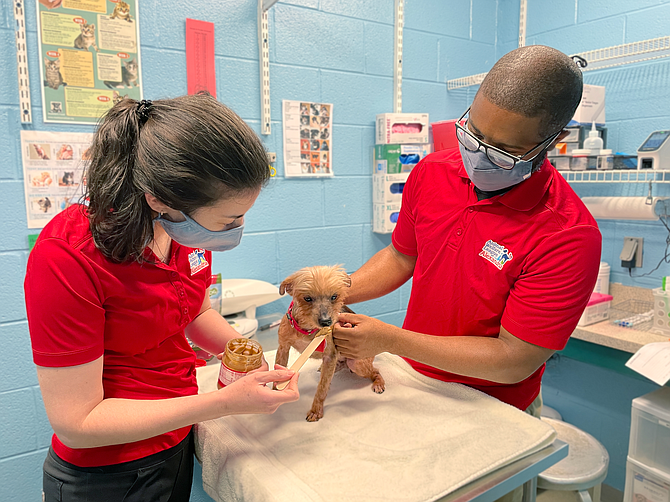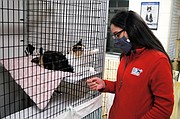 Toffee, a six-year-old tricolored Chihuahua/rat terrier mix, cowered in the very back of a crate in her kennel at the Animal Welfare League of Alexandria (AWLA). Trembling at every loud noise, Toffee was scared of the world.
Animal Care Associate Jennifer Yang decided Toffee needed a change of scenery — and sounds. One day during her lunch break, Yang carried Toffee's crate into a quiet room in the shelter and sat with her, occasionally tossing a treat her way. After about 10 minutes, Toffee ventured out far enough to nibble a few treats, and by the end of Yang's lunch break, she had left her crate completely. After that breakthrough — and a move to stay with a staffer in a quiet office for a few days — Toffee's confidence grew by leaps and bounds. Within a few weeks she was ready for adoption.
Yang's strategy was based on training she had recently completed for a program known as "Fear Free Pets," a comprehensive training and certification program developed by veterinarian Marty Becker and other veterinary experts that seeks to reduce animals' fear by addressing their emotional well-being. Fear-free practices can include reducing stressful visual stimuli for the pet, using soothing pheromones, calming music, prescription sedatives, gentle control techniques and improved housing and enrichment activities. All of the AWLA's staff has completed the extensive Fear Free online certification coursework.
"From the point of entry to their exit from our facility, we want to make sure that animals are as comfortable as they can be and ensure their stress levels are managed and minimal," said AWLA Director of Operations Katie DeMent. "Our duty is to make sure an animal is not only medically comfortable but also behaviorally comfortable. For example, during their medical exams, we use food to distract them — a lot of dogs don't even know they got a shot if at the same time they have their nose in a jar of peanut butter."
To reduce stress during physical exams, cats are gently wrapped in a towel, DeMent said. "If a cat gets too uncomfortable during a medical procedure, we stop what we're doing and have the vet do an exam with light sedation the next day," she said.
This training has expanded staff's knowledge of canine and feline body language. "If we see a dog trembling in his kennel with his ears back and pupils dilated, we quickly move him to a quiet place, such as an office space or even foster care in a home," DeMent said. "The first step is being aware and the second is acting quickly.
"It takes a keen and trained eye to notice the most subtle body language changes, such as dogs that shake like they are drying off can mean they're actually trying to release stress. Or a dog yawning out of context also can indicate they are stressed." To provide a feeling of safety, AWLA kennels contain hiding spots and kennel curtains, giving the animals the opportunity to get out of view of humans when they need to.
"A change of environment is always stressful," said Community Outreach and Adoptions Associate Jeannette Acosta, who helps manage adoptions, which are now done by appointment. "As soon as the animals arrive, they encounter strange people putting their hands on them, and then they're placed in a kennel or enclosure that's completely new to them. So following fear-free practices, we use the least amount of handling necessary. We also pay a lot of attention to the animal's body language. When I first meet a shy cat, I try to use a soft voice."
A day in the life of an animal at the AWLA includes plenty of distracting enrichment — "busy boxes" filled with toys smeared with cheese for dogs and toilet paper rolls stuffed with treats for cats, not to mention catnip — all designed to entertain the animals and reduce stress levels. Volunteers trained in body language and handling take high-energy dogs for frequent walks, and others spend time playing with the cats in their enclosures or just sitting quietly with them as the felines' fear of the shelter environment slowly melts away. Behavioral interactions are carefully documented in a database so that shelter staff can track each animal's progress.
Adoptable turtles can take a few weeks before they're comfortable enough to come out of hiding and bask in under their heat lamps. Pibb the red-eared slider finally came out of her shell when volunteers taught her to play with a red ball attached to a metal stick, rewarding her with treats. For Pibb, people no longer equal fear; they equal treats.
Acosta says undergoing the Fear Free training program has reset the compassion she feels for both animals and people, including coworkers. "With this training I have learned to take a second before I say anything or act in a certain way," she said. "That gentle approach really permeates what we do."
The Animal Welfare League of Alexandria is a local 501(c)(3) organization that operates the Vola Lawson Animal Shelter, Alexandria's only open-access animal shelter. In response to the global pandemic, the AWLA has established a virtual adoption process and is operating a Pet Pantry that provides pet food and supplies to community members in need. The AWLA also offers assistance to Alexandrians with questions about wildlife and animals in the community. More information can be found at AlexandriaAnimals.org.