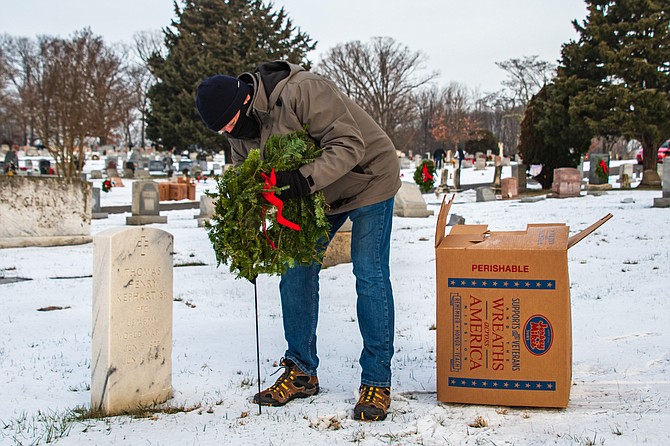 Herndon Woman's Club (VA0143P) found a different way to carry out and join Wreaths Across America on National Wreaths Across America Day, Dec. 19, 2020. Since 2014, the Town of Herndon, in partnership with Herndon Woman's Club, has joined the national nonprofit organization Wreaths Across America in their mission to remember the Fallen, honor those who Serve and to teach the children the value of Freedom by coordinating a wreath-laying ceremony and laying of remembrance wreaths on gravesites of United States veterans at Chestnut Grove Cemetery, 831 Dranesville Road, Herndon.
"Thank you HWC for this wonderful opportunity and may all those who have loved and in their way served this great country in life, in death know our gratitude," wrote Jack McNulty on the Wreaths Across America message page from supporters.
The historic cemetery is owned and operated by the Town that requested no public ceremony in 2020 due to coronavirus and restrictions. Members of Herndon Woman's Club made logistic and restrictive changes to the event, limiting gathering size to only a handful of members and their spouses. All wore masks.

Following the ceremonial Placing of Wreaths to honor those who serve and served in each branch of the United States military – the Army, Marines, Navy, Air Force, Coast Guard, and Merchant Marines plus one wreath representing all prisoners of war/missing in action (POW/MIA), the small group placed 863 fresh balsam remembrance wreaths at the headstones of veterans' graves.
Suzy Ledgerwood, president of Herndon Woman's Club, said, "Plans are to remove the wreaths by Friday, Jan. 15."
Recent messages on the Wreaths Across America memories page from supporters about local veterans interred at Chestnut Grove Cemetery:
"Thank you for your service. We honor you and all those fallen heroes. Forever remembered and celebrated." – Dianna Fisher for Doug Heckman
"Thank you for your service, Earl. You were taken way too early. I love and miss you, my twin brother Earl." – Coulter for Earl Preston, Navy