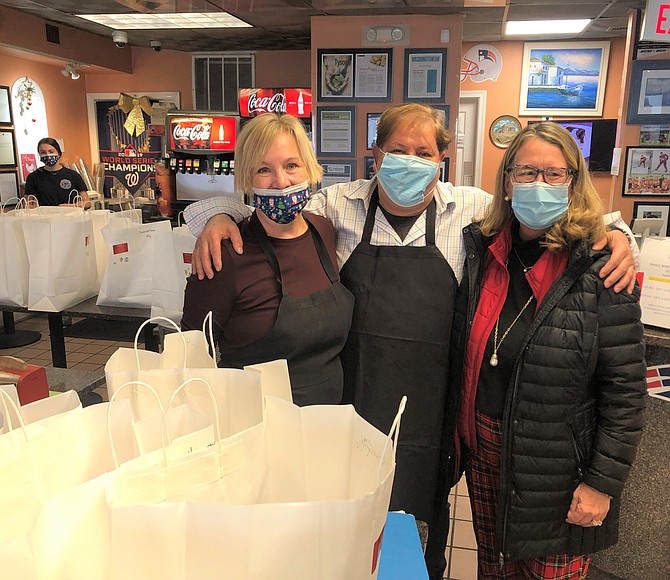 While this time of year may be festive for many, during these difficult days of COVID restrictions, the Shepherd's Center Serving Oakton-Vienna-Reston-Herndon (SC) wanted to reach out to their often lonely and isolated senior clients. This past Christmas week, SC was able to share holiday meals with local isolated senior clients. SC's Holiday dinner delivery initiative was welcomed by their clients. The following are three testimonials provided by these seniors:
One of SC's volunteer drivers, Lyn Black, showed kindness and the spirit of the season when delivering to two of Shepherd's Center clients in Reston. Ms. Black showed up for her deliveries wearing a red jacket with a jaunty Christmas hat on. She decided to dress up very festively with the cute hat, jingle bells necklace and bracelet. On her first delivery, one of SC's Reston clients noticed her jingle bell bracelet and said she really liked it, so Lyn gave it to her. The senior was jingling her newly acquired bracelet saying, "you know, an angel gets its wings every time you hear a bell ring". The very next Reston meal recipient admired her cute little red hat. So, Lyn gave that to her as well.

The holiday dinners were prepared by Café Renaissance and Skorpios Maggio's Greek Family Restaurant. Hand-made greeting cards were provided to each client by the elementary school students at The Newton School in Sterling, under the leadership of Nicola Magley, Administrative Assistant.
This event was funded by Northrop Grumman and United Bank. Meal deliveries were made by board members Rich Deusterhaus, Patti Vaughn, Bill Farrell, Scott Schroth, Leigh Banducci and Scott Honiberg. In addition, volunteer delivery drivers included Matthew Humphrey, Executive VP, Head of Wealth & Investment Management, United Bank; Lyn Black, Matt Banducci and Claire Banducci.
To volunteer, donate or learn more about how you can help, or how we can help you, visit https://www.scov.org/ or contact the office at 703-281-0538, office@scov.org.