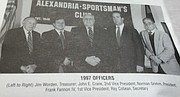 Ray Bell Cobean, a longtime member of the Old Dominion Boat Club and the Alexandria Sportsman's Club, died Dec. 18, 2020, at the age of 90.
Cobean was born in Alexandria on Sept. 2, 1930, to Junius Edwin Cobean and Annie Venitia Walter. He grew up on Custis Avenue in the Del Ray section of the city and graduated from George Washington High School in 1949. He spent most of his adult career working as manager of data processing at Stuart Investment Company.
Cobean's father Junius was one of the original 48 founding members of the Alexandria Sportsman's Club in 1948. Cobean followed in his father's footsteps as a dedicated member of the Alexandria Sportsman's Club and was elected president in 1989. He served as the organization's treasurer for 10 years in the late 1990s and early 2000s and for many years on its Board of Governors. In 1988, Cobean was honored as the ASC Sportsman of the Year.
"Ray had a huge positive influence over the club and was a true gentleman and leader who will truly be missed," said Alexandria Sportsman's Club president Eva Shea. "Our thoughts and prayers are with his family."
Cobean was an avid member of the Old Dominion Boat Club for over 30 years. He served as vice president in 1992, as treasurer from 1993 to 1999 and on the Board of Governors in 1991, 2000, 2003 and 2006. Throughout the years, he also served as the club historian.
Cobean was husband to Joan Gaye Cobean, who predeceased him in 2017; father to Debra R. Sartor, Denise R. Miller and Ray B. Cobean, IV; grandfather to Kyle Sartor, Haley Sartor, Samantha Miller, Michaela Miller, Michael Miller, Rita Cobean; and great-grandfather to Rylie Sartor.
Interment will be held at Ivy Hill Cemetery on Jan. 9 at a private family graveside service. A celebration of life will be held later in 2021. In lieu of flowers, donations may be made to the Alexandria Sportsman's Club Scholarship Fund, PO Box 1011, Alexandria, VA, 22313 or www.alexandriavasports.org.