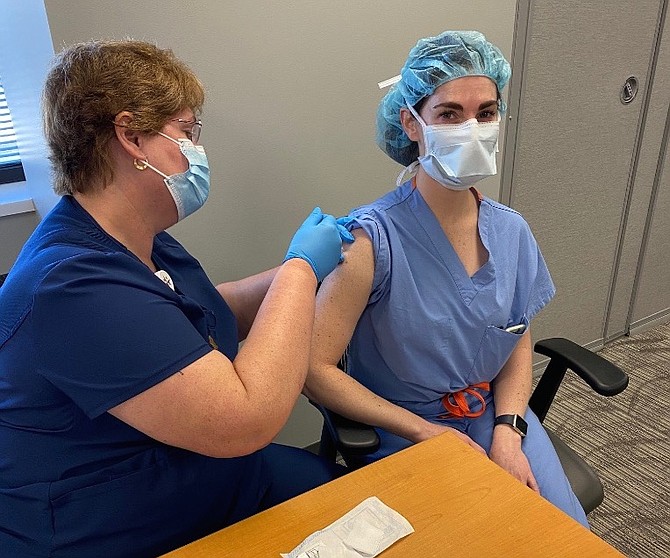 County residents looking for when and where they can get COVID-19 vaccines can only wait and wonder.
Though the County does have a chart listing a priority line-up, how fast the line moves down the priority list depends on the number of vaccines shipped to the county each week, according to Montgomery County Deputy Health Officer James Bridgers.
"We are challenged by the amount of vaccine we get each week," Bridgers said at a press conference with Montgomery Council President Tom Hucker and Vice President Gabe Albornoz on Monday.
Of the 12,900 doses received so far, he said, 8,939 were administered by Friday, Jan. 8, and by Tuesday, Jan. 12, he expects 100 percent of the doses to be given.
At this point, he said, the County is administering between 1,500 and 2,000 doses per day.
Hucker said he was satisfied with the rate the county is administering what they get, but, he added, "We are at the mercy of the state" regarding when and how much vaccine the County does get.
Bridgers said he is expecting to receive 6,700 new doses on Tuesday, Jan. 12. The doses are doled out weekly by the State.
With more than one million residents in the County, it is not a simple matter of figuring the number of people minus the number of doses given each week to calculate when it will be your turn to get the vaccine. It's hard to know exactly where you stand on the phases delineated by the County because any one person can fit into more than one category.
For instance, you could be a County resident but a hospital front line worker and get a vaccine from your hospital rather than the County. You could also be a nursing home worker and get the vaccine from your workplace.
"We don't manage that," Bridgers said. "Congregate living spaces are handled by Walgreens and CVS."
The County is still in Phase 1A of its three-phase priority group distribution plan as of Jan. 11, according to the Montgomery County website.
Montgomery County is in Phase 1A for vaccine distribution. Vaccine in this first portion are administered as this:
County staff are vaccinating frontline health care workers and first responders (those who come into contact with ill and injured residents).

The State is providing vaccines to hospitals, who are administering vaccine to their staff.

A federal contract through CVS and Walgreens is providing vaccine directly to nursing home staff and residents.
Next comes Phase 1B, residents over the age of 75 and frontline essential workers. Then Phase 1C, residents over the age of 65 and residents with specific medical conditions.
Phase 2 is for people in "critical infrastructure roles." Phase 3 finishes up with "general population."
There is no cost for the COVID-19 vaccine.
"Medicare, Medicaid and most private insurance will cover the cost of the vaccine. Montgomery County will cover the cost for anyone who is uninsured," according to the website.
There have been very few adverse reactions to the vaccines. The Vaccine Adverse Event Reporting System detected 21 cases of anaphylaxis after administration of a reported 1,893,360 first doses of the Pfizer-BioNTech COVID-19 vaccine (11.1 cases per million doses); 71% of these occurred within 15 minutes of vaccination. These included 17 reactions in persons with a documented history of allergies or allergic reactions, seven of whom had a history of anaphylaxis. The County Department of Health and Human Services (DHHS) is prepared to respond to anaphylaxis/severe allergic reactions after the COVID-19 vaccination and is pre-screening individuals to determine if there are any contraindications or precautions.
The CDC recommends that everyone get the COVID-19 vaccination when it is available to them; none of the currently available COVID-19 vaccinations is available for children.
For more information, visit montgomerycountymd.gov COVID-19 Information Portal and or sign up for vaccine updates. Updates can be delivered by either email or text. https://montgomerycountymd.gov/covid19/vaccine/