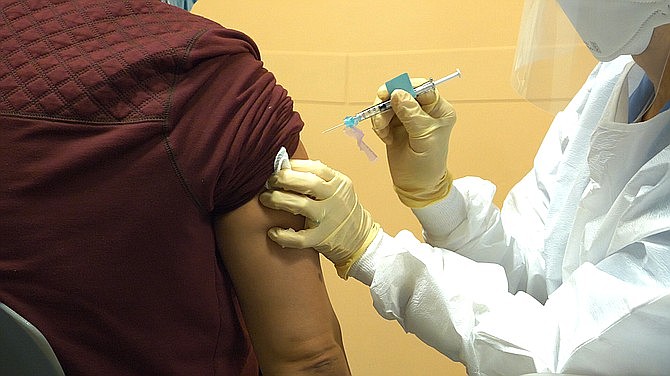 Montgomery County residents 75 and over may now pre-register for an appointment to receive the Covid-19 vaccination when supplies allow.
Maryland Governor Larry Hogan announced Jan. 14 that Maryland would move to Phase 1B of its COVID-19 vaccination plan beginning Monday, Jan. 18, though Montgomery County is lagging behind the governor's plan.
"On Monday, Jan. 18, the State of Maryland will officially enter Phase 1B, which includes Maryland residents who are 75 years and older; Marylanders in assisted living, independent living, developmental disabilities or behavioral health group homes, and other congregate facilities; high-risk incarcerated individuals; continuity of government vaccinations; and education, including K-12 teachers, support staff, and childcare providers," according to the Office of the Governor.
"The state will make 50,000 doses available next week [this week beginning Jan. 17] to hospitals, county health departments, and federally qualified health centers to launch clinics focused on elderly populations."
Montgomery County offered the following update on Jan. 15 on its covid vaccination webpage:
"Governor Hogan announced yesterday that Maryland will be moving to Phase 1B on Monday, Jan. 18, 2021. Phase 1B includes people age 75 or older.
"We have not yet received enough vaccine from the Maryland Department of Health to finish those in Priority Group 1A. We will begin vaccinating those in Priority Group 1B as soon as we can, while continuing to vaccinate those in Priority Group 1A."
As the County gets more vaccine from the Maryland Department of Health, the County will contact registered residents to schedule appointments.
It is, however, time to register to make an appointment – appointments will be required. These are the guidelines on the county website:
The county Department of Health and Human Services is planning Coronavirus vaccine clinics for residents 75 years and older. Individuals must be residents of Montgomery County and be 75 years or older at the time of vaccination.
To preregister, visit the Montgomery County COVID Portal https://www.montgomerycountymd.gov/covid19/vaccine/
Find FAQs and other vaccine resources at covidlink.maryland.gov. #MDReady