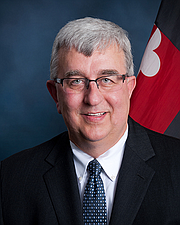 Montgomery County Public Schools Superintendent Jack R. Smith announced last week that he will retire effective June 1.
In a letter, Smith wrote:
"After much consideration, I have shared with the Board of Education that I will be retiring as superintendent of schools this spring. I have tentatively set my retirement date as June 1, 2021.
"As I have shared with some of you, my two-year old grandson had significant open-heart surgery in May 2019 to reconstruct his malformed heart. While the surgery was successful, my wife, Gayle, relocated to Maine to help my daughter and son-in-law care for him. Her stay in Maine to support our grandson was extended with the COVID-19 pandemic.
Given his health needs, our family's circumstances are not going to change for at least the next few years. I need to join Gayle in Maine as I find I can no longer tolerate living most of the time separately.
"I have loved my time in Montgomery County Public Schools and have no desire to leave. The staff in the school system is among the most talented and dedicated in this country. The work we have done together around the equity accountability framework, the allocation of resources, student well-being, upgrades to current technology, our expansion of pre-K and language programs are among a host of system improvements that I am so happy to have been involved with.
"I will greatly miss being a part of this organization. The 17 school board members I have worked with here have been committed, dedicated professionals, and they consistently have made decisions with the best interest of students in mind, as well as a very real desire to maintain the excellence of the system, while increasing the access and opportunity to provide a truly equitable experience for every child we serve.
"I've truly been fortunate to work with these school board members, the staff, our elected officials and the community in Montgomery County.
"I am confident that MCPS will continue to do great work on behalf of our 160,000 students—it always has. I am also confident that working together, we can and will implement a comprehensive recovery of education plan that will get students back in school buildings and address the significant learning loss as a result of the COVID-19 pandemic."
Smith started with MCPS in July 2016 after serving as the interim Maryland state superintendent of schools.
Smith has been a classroom teacher, principal, curriculum director and a local superintendent of schools.
"[He] will remain with MCPS until June 1 and will be fully engaged in guiding the school system as it works to return students to in-person learning as soon as health metrics allow and/or health guidance is adjusted as a result of vaccine distribution," according to a letter to the community from the Board of Education.
"Dr. Smith has been an unwavering champion for Montgomery County Public Schools," said Brenda Wolff, Board of Education President. "He has helped guide the school system through very turbulent times with a deep commitment to our students, staff, families and community. We thank him for his service and wish him well in his well-deserved retirement."
About Smith, the Board of Education further wrote, "…His steady leadership has guided us through these tremendously challenging times as we navigate the complexities of the COVID-19 pandemic and work to get students and staff back in buildings as quickly and safely as possible. Dr. Smith is an exceptionally skilled leader, and we are grateful for the time we have had with him. Although we are saddened by his departure, we understand his need to be with his family as they navigate a variety of challenging health circumstances."
Smith's career in education began as a teacher at Hanford Secondary School in Richland, Washington. Later, he served three years as a middle and high school assistant principal for that school system and another four years as a principal.
In August of 1992, Dr. Smith and his family moved to Tokyo, Japan, where he served as principal of the Christian Academy in Higashikurume, Tokyo. The Christian Academy, K-12, provides an American-style education in English, with students from more than 25 countries.
Returning to the United States in 1998, Smith became a middle school principal in Calvert County, Md. He spent four years there, taking a one year leave of absence to launch a boarding school in Thailand.
He was named director of curriculum and instruction for Calvert County Public Schools in July 2002, followed by deputy superintendent of schools the subsequent year. Calvert County Public Schools chose him as its superintendent of schools in 2006, and he served as the county's superintendent for seven years.
He was appointed interim state superintendent of schools and treasurer of the Maryland State Board of Education in 2015.
The MCPS Board of Education will name an interim superintendent of schools and conduct a search for a new superintendent.