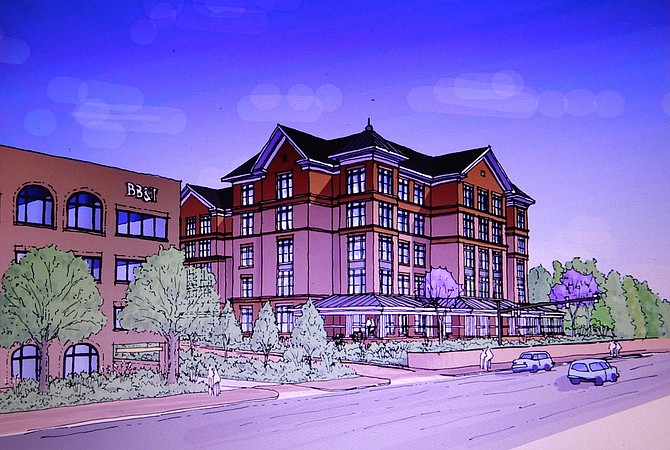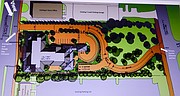 Sunrise Senior Living is considering building a facility in the City of Fairfax, and the Fairfax City Council heard about the proposal during a pre-application discussion, last Monday, Jan. 5.
The City's Senior Planner, Albert Frederick, made the presentation at the Council's work session. He said the five-story building would be about 75 feet high, with below-ground, structured parking, plus some surface parking, for more than 150 total spaces.
It would be constructed on nearly 2.7 acres owned by the Davies family at 4131 Chain Bridge Road in Fairfax. Currently on the property is a single-family home built in 1916.
"It's in the City's Old Town Fairfax Transition Overlay District," said Frederick. "The building would be 82,000 square feet, with 90 assisted-living units and 130 beds. And the plan shows open space along University Drive. The primary entrance would be from University, aligned with Breckinridge Lane; Chain Bridge Road is designated as the emergency entrance."
City staff hasn't yet received all the details of the plan, so it's been unable to do an in-depth analysis of it. And Frederick explained that it doesn't need to go before the City's Planning Commission because it just requires special-exception and special-use permits.
"There's a steep slope on that land, from west to east," said Councilmember Tom Ross. "And there's a tremendous amount of green space on University Drive – which is a positive thing."
Noting that the open-space area is about 30,000 square feet, he wondered if the applicant would allow City residents to use it, too, for passive recreation. But since last week's meeting was just intended to give the Council a first look at what's being proposed – and obtain its feedback and suggestions before formally submitting an supplication – representatives from Sunrise Senior Living were not in attendance.
Still, added Ross, "I think there are a lot of positive benefits in this project, including the need for assisted living here."
However, it wasn't the first time Sunrise had proposed building on that site. So, asked Councilmember Janice Miller, "What's the difference between this plan and the one proposed in 2019?"
"Before, there was a combination of assisted living and congregate, independent living," replied Frederick. "And the previous plan had 80 assisted-living and 80 congregate units for 160 units total. This one has just 90 assisted-living units."
"So some people could be in a unit together," said Miller. "What could be done on this property, by right [without needing special permits]?"
"A single-family, detached or attached home; a group home and a telecommunications facility," answered Frederick. Miller then asked him to obtain for her a list of the City's already-approved, senior-living facilities, as well as what's in the pipeline.
Councilmember Sang Yi said he's looking forward to hearing what the neighbors think of this proposal. But, he added, "This looks like an improvement over the previous plan and addresses some of the concerns [such as traffic generation and density] we spoke about then."