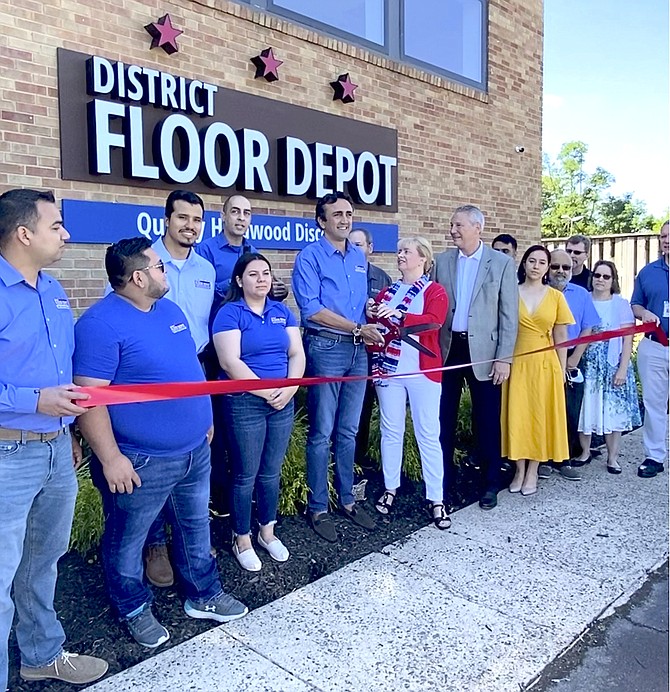 District Floor Depot celebrated the Ceremonial Grand Opening of its third and newest branch at 1051 Elden Street, Herndon, with a ribbon cutting ceremony held Thursday, June 23, that was supposed to happen over a year ago. "Our store opening got delayed due to the COVID-19 pandemic...We had our soft opening on Monday, Oct. 12, 2020," said Managing Partner Yusef Mehmetoglu. "[But] we had to cancel the ribbon cutting to comply with CDC social distance guidelines."
The store offers customers mill-direct pricing and installation of hard surface flooring such as traditional, distressed, reclaimed, and exotic hardwoods, luxury resilience vinyl, bamboo, and cork flooring. Mehmetoglu said that initially, they planned to open the Herndon location in April of 2020.
With Town of Herndon Mayor Sheila Olem, town staff, members of the Dulles Regional Chamber of Commerce, including Joe Martin President & CEO, employees, and guests present, Mehmetoglu thanked everyone for their support and welcomed them to the town "with open arms." "We look forward to doing business for many years here, and we appreciate all the help and support today with the grand opening," he said.
Mayor Olem said that District Floor Depot was an exciting business to have in the town. "I know that people in Herndon are constantly redoing their housing instead of moving...We welcome you and wish you lots of success." A reception followed with door prizes.
The flooring company has over 100 5-star reviews across Google, Facebook, Yelp, and Houzz, according to Mehmetoglu, and can be reached by email at store003@districtfloordepot.com or phone at 703-436-1050.