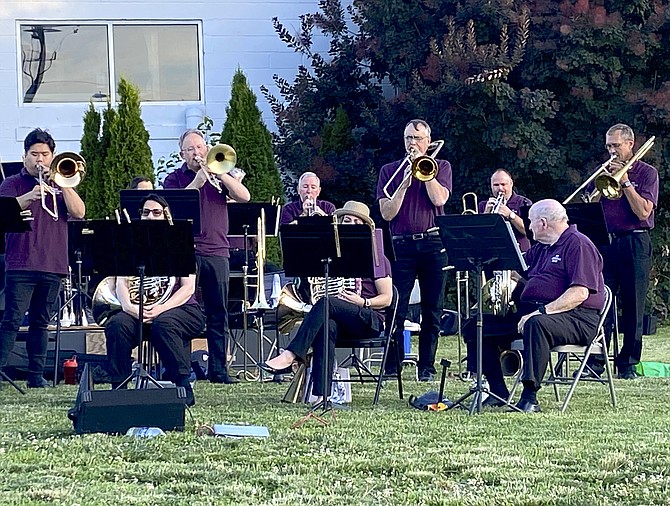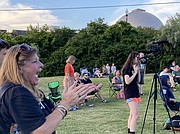 The Cathedral Brass of Vienna Presbyterian Church performed a free outdoor concert titled "Americans We" at 7 p.m. on the Arts Herndon Lawn Stage, located adjacent to its arts center in the heart of the historic downtown district. Arts Herndon produced the program under its grant-funded World Music Series.
Conductor Dr. Dereck Scott brought the high-energy music of Cathedral Brass with guest artist Graham Breedlove to Herndon. Together, the brass and percussion ensemble performed classical, jazz, and popular favorites.
According to Joanna Ormesher, President and Chief Executive Officer of Arts Herndon, featured works included Breedlove's New Orleans jazz arrangement of the gospel hymn "Precious Lord, Take My Hand," Chicago's "25 or 6 to 4," Morton Gould's "American Salute," and John Williams' "Swing, Swing, Swing" from the movie "1941."
"The Cathedral Brass was thrilled to have the opportunity to perform in Herndon on Friday. It's been fantastic to share live music with people again, and we are eager to continue this partnership well into the future," said Scott.
"Quin Tango" – an Argentine Tango delight, Shepherd's Pie Irish Ceili Band, and "Americans We" with Cathedral Brass of Vienna this past weekend have been delighting Herndon audiences on the Arts Herndon Lawn Stage for the past month. I'm thrilled with the response, and we are now looking to continuing the series on Saturday evenings during the summer," said Ormesher.
Founded in 1983 by Ray and Sharyl Abell, the Cathedral Brass is under the direction of Dr. Dereck Scott. For more information, visit https://www.cathedralbrass.org/ or contact the.cathedral.brass@gmail.com.
More like this story