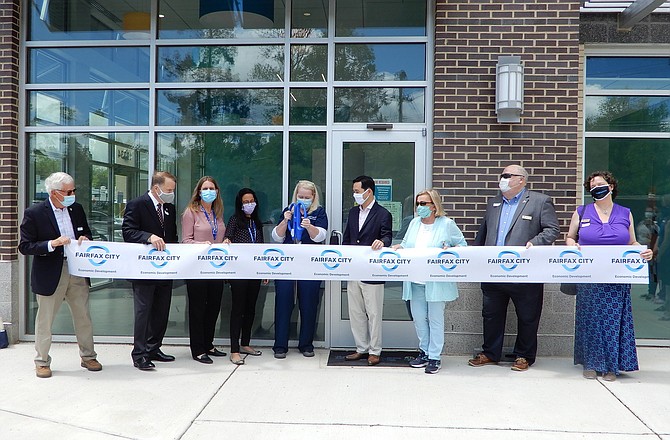 Point 50 is one of Fairfax City's newest commercial centers, and now making its home there is TPG Pediatrics (The Pediatric Group). Located at 10334 Fairfax Blvd., it recently held its ribbon-cutting, and then attendees received a tour of the office.
"Businesses that provide professional services make up a significant component of the City's economy, and we're proud to welcome TPG Pediatrics to the City's business community," said Danette Nguyen, Fairfax City's Assistant Director of Economic Development, "Our residents and City are committed to a healthy lifestyle and emotional wellbeing, and that's why we're so excited to have a pediatric office here."
She explained that TPG, a division of Trusted Doctors, is a neighborhood-focused practice that provides quality care while using the latest technology to serve its patients. It's been in Northern Virginia since the 1950s and also has offices in Chantilly, Lake Ridge and Alexandria. Staff members at each site work in teams to provide more personalized and continuous care.
"With a core group of board-certified pediatricians, pediatric nurse practitioners and physician assistants, each location prides itself on being big enough to be innovative, yet small enough to know its patients personally," said Nguyen. "On behalf of Fairfax City, the Office of Economic Development and the Economic Development Authority, I'd like to thank you for making Fairfax City the home of TPG Pediatrics. Having TPG here to take care of our youngest residents means so much to us. You're in a wonderful, new shopping center at Point 50, and we welcome you with open arms."
ATTENDEES at the ceremony included Fairfax City Mayor David Meyer; City Council members Janice Miller, Tom Ross and Sang Yi; as well as Jennifer Rose and Doug Church with the Central Fairfax Chamber of Commerce. Meyer also spoke to the TPG representatives there.
"We're committed to revitalizing the City's economic life; and to get a pediatric group like TPG here was the icing on the cake," he said. "This is a great location, and we hope it'll help you and your patients. To have high-quality, board-certified physicians and physician assistants is a real boost to our community. There are a lot of stresses facing our children today, so it can be challenging for the doctors taking care of them. So we commend you for choosing pediatrics as a career."
Speaking next was Dr. Candace Fugate, the president of TPG. "We are so very excited that our City of Fairfax office is now open," she said. "And we thank the City, Department of Economic Development and the Fairfax City business community for this warm welcome."
She said TPG is recognized as a National Committee for Quality Assurance, patient-centered, medical home. "This standard puts patients at the forefront of care and builds better relationships between patients and their clinical-care teams," she explained. "We know how important our role is in supporting the community every single day – even more so during this stressful time.
"During the pandemic, our doors never closed. We adapted to our patients' needs by adding increased access for mental-health services, expanding telemedicine, implementing COVID testing and putting in place strict safety protocols in our offices to reduce the risk of exposure to the COVID-19 virus." In addition, TPG administered thousands of vaccines.
"Our practice has had the privilege of providing care for children in Northern Virginia for over 70 years," continued Fugate. "We're continuing to take new patients and are looking forward to another 70 years of service to the community we love."
AFTER THE RIBBON CUTTING, TPG gave attendees a tour of its new office at Point 50. "We moved here from our previous office in Patriot Square, near GMU, after we outgrew that space," said Fugate.
LPN and office manager Alisca Hooper said the Fairfax City location has four doctors – two physicians and two nurse practitioners – plus two medical assistants, two front-desk personnel, two triage nurses and a dietician. Services include well-child visits, counseling, lactation and nutrition consulting, as well as free, newborn baby-care classes.
In addition, this office is a business owned by women: Doctors Aarti Kapoor, Elizabeth Palumbo, Samantha Cutler, Candace Fugate and Evie Cavros. "We're excited about this location and delighted to see more kids from the community to help them grow, be healthy and get vaccinated," said Kapoor.
Agreeing, Palumbo said, "We're happy to help children and families through well-checks, acute visits, vaccinations, nutrition and mental-health services."
"There's no physician that makes a better, longer and stronger impact upon a person's life than a pediatrician," added Fugate. "And there's nothing more rewarding than working with kids."
Regular office hours are Monday-Friday, 8 a.m.-5 p.m., plus extended hours, one or two evenings/week. For more information, go to https://www.tpg-pc.com. After-hours care is also available via an on-call doctor. Same-day, sick-child appointments are offered, as well. Phone: 703-425-3300.