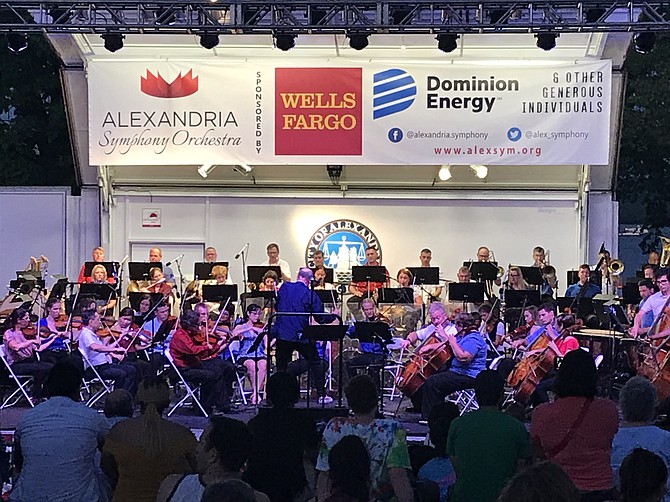 Trumpets and French horns will blare "America the Beautiful" as the Alexandria Symphony Orchestra opens the Alexandria's Birthday Celebration July 10 at 9 p.m. at Oronoco Bay Park. The 50-minute concert will include an eclectic mix of original pieces with the more traditional Sousa marches mixed with fanfares, blues and patriotic tunes.
The program broadens the scope and range of composers to include African-American and women composers. Music Director James Ross says, "The Black Lives Matter put a finger on all institutions — how do we relate if what we do is not available to everybody and doesn't represent diversity? It's an added gift to question everything, performers and composers."
According to George Hanson, ASO Executive DIrector, although ASO performed several informal concerts with a few performers last year, this will be the first full ASO orchestra concert presented to an audience greater than 50 since COVID shut down the concerts in March 2020. Ross adds, "The ASO is thrilled to be joining forces with the City of Alexandria to send some fireworks flying in celebration of Alexandria's birthday. With musical works honoring our City's rich history and diversity, it will be a sonic bash of the kind that lifts spirits."
The celebration, sponsored by the city and coordinated by the Department of Recreation, Parks and Cultural Activities, is free and open to the public. Although masks will not be required, attendees are asked to spread out in the park. Sponsors of the concert include: KSA Integration; Networking Engineering and Technologies; United Bank; Caudron Megary Blackburn; John D. Kling, DDS; Sunrise of Old Town; Chadwicks; and Burke and Herbert Bank.
Come and be surprised. Discussions on choices of patriotic wear for orchestra members are still ongoing. The program concludes with the grand boom of the 1812 Overture accompanied by the spectacular fireworks display.