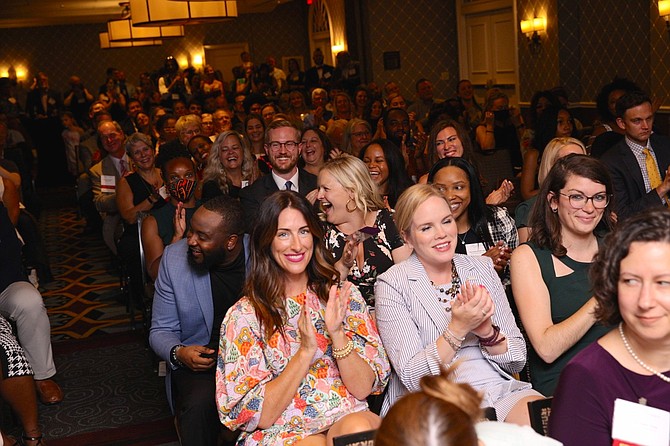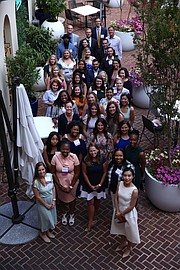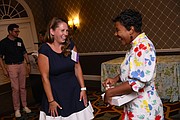 Alexandria's business community gathered July 15 at The Alexandrian Hotel to celebrate the Chamber ALX's 40 Under 40 class of 2021 honorees.
Chosen from a broad range of nominations earlier this year, each honoree was selected for their professional accomplishments, scholastic achievement and community impact.
Presented by Beyer Subaru, the 40 Under 40 program was established in 2016 to recognize those age 40 and under engaged in a variety of fields including business, technology, nonprofit management, civic life, public service, education, and the arts, who are shaping Alexandria for the future.
In addition to the 40 Under 40 business honorees, the Chamber ALX recognized 2021 Alexandria City High School graduates Lorraine Johnson and Ashley Sanchez-Viafara with the organization's first Youth Honoree awards.
The Chamber ALX 2021 40 Under 40 honorees are: Amanda Alderson, National Industries for the Blind; Morgan Babcock, The Carlyle Council; Rachel Baer, Esq., Family First Law Group; Jackie Barbarito, Goodwin House; Miguel Blancas, City of Alexandria; Taryn Brice-Rowland, National Association of Truck Stop Operators (NATSO Inc); Alycia Burant, Healthy Minds Therapy; Christina Calloway, United States Patent and Trademark Office; Cynthia Chin, United States Patent and Trademark Office; C.J. Cross, Hops N Shine; Lieutenant Marcus Downey, Alexandria Police Department; Cheyanne Dwyer, Building Momentum; Paula J. Eichenbrenner, MBA, CAE, Academy of Managed Care Pharmacy Foundation; Kelly Ferenc, Bishop Boutique; Claudia Girerd, Freeman Decorating Company; Alyson Glick, Aptive Resources; Kellie Gunderman, The Social Edge, LLC & VIP Alexandria Magazine; Connie Hammell, KWC Certified Public Accountants; Amanda Parker Hazelwood, The Spitfire Club; Jenna Hong, MD, INOVA Medical Group; Mary Charlotte Horner, Legal Services of Northern Virginia; Michelle Smith Howard, Smart Beginnings Alexandria; Lorraine Johnson, Alexandria City High School Student; Nicole Jones, Stomping Ground, Bagel Uprising & Mae's Market & Café; Harrison C. Lee, Cotton and Company; Lizzie Liu, The Campagna Center; Sarah Locke, Old Town Tax Consultants; Drew Marks, Mark-Woods Construction Services; Jennifer N. Masi, Children's Law Center; Cody Mello-Klein, Alexandria Times; Morgan C. Middleton, United States Senate Federal Credit Union; Ashley Sanchez-Viafara, Alexandria City High School Student; Oliver N. Schipper, MD, Anderson Orthopedic Clinic; Robin Shultz, INOVA Health System; Faith Spillman, Alexandria Police Department; Jacobson Truex, McLaughlin Ryder Investments; Jaqueline Tucker, Esq., City of Alexandria; Lauren H. Waldron, Society for Marketing Professional Services; Natasha Walters, Brandywine Living at Alexandria; Toriseju Whyte, MD, Kaiser Permanente Mid Atlantic Medical Group; Jordan Wilhelm, The Critical Mass LLC; Andrew Young, Renner and Company, CPA, PC.