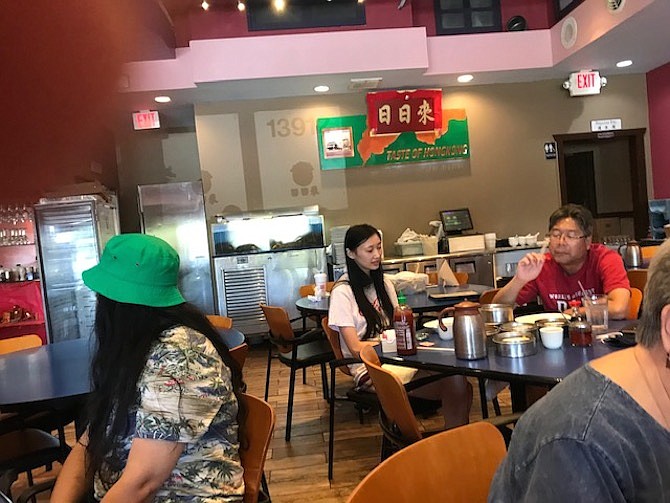 With the pandemic diminishing, Americans are hopping back on the road again, heading east, west, north, and south. And many are now heading to the airport; as reported, about 2.5 million were boarding planes now. How many are traveling abroad is not clear, but if folks are craving some Asian eats, don't bother to fly abroad. Just head to Chantilly and grab a seat at Taste @ Hong Kong.
Located in Metrotech Center, this eatery features classic Cantonese food with a few Szechuanese and Hunanese offerings amplifying the menu choices. But the main big deal here are the huge—and really lengthy—Cantonese dishes, ranging from roast duck and Hong Kong-style soup to Hong Kong-style Barbecue, Clay Pot rice, and the most classic Cantonese dish of all, congee. For those not in the know, congee is a popular breakfast dish in Hong Kong, with congee stands often in marketplaces and street corners. It is simply a boiled rice porridge that is eaten plain or topped with meats and/or seasonings.
Thanks to the extensive menu, plus lunchtime specials, Chinese food aficionados can eat their way through so many special offerings. Besides the chef's recommended dishes that include curry beef brisket (Cantonese) lamb casserole, other top entrées include Peking Duck (a bit pricey but worth it), Orange chicken and General Tso's chicken (both Hong Kong classics), and roasted pig. For a real eye-opener, look at the glass-enclosed case behind the cash register, where roasted meats hang. And if you are up for it, though probably few Westerners are, consider ordering sautéed intestines with sour cabbage.
True, the lunch menu is abbreviated, but come with friends and share some appetizers. Good picks are the fried shrimp toast and the fried vegetable spring rolls. But for those into exotic eats cold jellyfish and curry squid are also meal openers. Lunch entrées include both Hunan shrimp and Szechuan shrimp plus Kung Pao chicken (not really spicy), sweet-and-sour pork, and for tofu fans, Ma Po Tofu that comes like a soup/stew with chunks of tofu floating in a broth.
Other lunch offerings include the clay pot rice dishes with eggplant and minced garlic; chicken and Chinese sausage; roasted pig; roasted duck; and pumpkin and Chinese yams plus others. Patrons can also choose curry beef brisket; beef with egg; roasted pig; or shrimp with egg plus other options served over rice.
Besides the authenticity of the cooking, a big draw here is the very, very extensive menu. You could come here probably almost every day for one year and still not sample every dish on offer.
Taste @ Hong Kong, 13912 Lee Jackson Memorial Hwy., Chantilly. Phone: 703-378-7680/7681. Hours: Lunch and dinner daily. https://www.tasteathongkong.com/