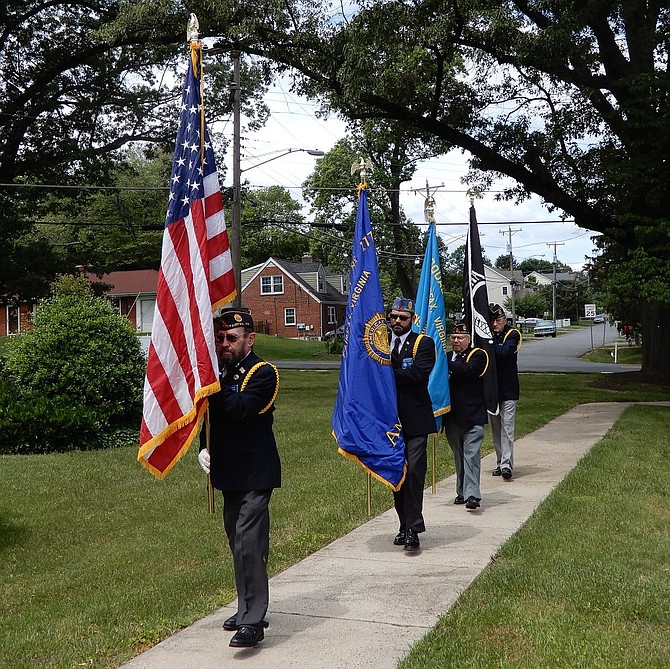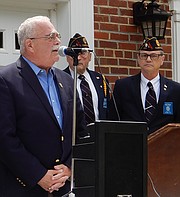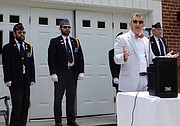 At the outset of Monday's Memorial Day ceremony on the grounds of American Legion Post 177 in Fairfax, the flag was raised at noon from half staff to full. And Post Commander Jeff White called it a metaphor for that day.
"It's a somber reminder of those who've lost their lives protecting our country," he said. "But we're grateful that, because of their sacrifices, we're able to be with each other to celebrate Memorial Day."
Since COVID-19 forced last year's ceremony to be drastically scaled down, U.S. Rep. Gerry Connolly (D-11) was pleased to see the community turnout for this year's event. "What a great feeling it is to be together again, as we come out of this pandemic," he said.
"On Memorial Day, we remember the people who've died defending the abstract ideals of people's right to life, liberty, justice and the pursuit of happiness," continued Connolly. "We haven't always lived up to these ideals, but we try to correct that. And today, we honor all those who've sacrificed their lives to protect these values we cherish."
He stressed that the newly freed slaves who fought in the Civil War took those ideals personally, and "40,000 African-Americans not yet citizens – and without the right to vote – gave their lives. So we must rededicate ourselves to those values. It's not that we all agree on everything, but it's about honoring those values and remembering what it means to be an American."
State Sen. Chap Petersen (D-34) said that, when the Revolutionary War broke out in 1775, a militia was mustered at the Fairfax County courthouse. "They read a list of rights that free men should have," he said. "And that Fairfax County Bill of Resolves later became part of the Bill of Rights – the first 10 Amendments to the Constitution – and what we think of as our most important freedoms."
"It's part of Fairfax County's legacy," said Petersen. "When that little gaggle of men marched off in 1775, they had an idea of what America meant – and on Memorial Day, we're part of that legacy."
Del. David Bulova (D-37) noted that, earlier on Monday, Fairfax City residents and officials read the names of all those from the City and county who gave their lives in the nation's wars. And looking at his son, who's 13, Bulova realized that, in five more years, he could be joining the military, too. He said his own father served in Vietnam, as did Robinson Secondary School's namesake, James W. Robinson, who was just 25 when he died in Vietnam.
"On April 11, 1966, Robinson killed a sniper and was wounded while rescuing three men," said Bulova. "But he still was able to throw grenades and destroy the Vietcong position before he died. He knew that wouldn't change the course of the war; but he also knew that, by working together [with his fellow soldiers], the spirit of America could never be extinguished. Today we honor the lives of those that were cut short, the families they never returned to and the democracy they fought and died for."
FAIRFAX CITY MAYOR David Meyer said the City lost four soldiers during WWII – two of them during the Allied forces' landing in Normandy, France on June 6, 1944. Then in 2017, he traveled there with the City of Fairfax Band, which was invited to perform for the 73rd anniversary of that landing on Omaha Beach.
"Before I left for that trip, someone told me his great uncle, George Sutphin, grew up in Fairfax and was buried in Normandy, but no one had visited his grave," said Meyer. So he took some soil from the yard where Sutphin was raised and brought it with him to France.
"In the cemetery there, we said a prayer and I spoke about him, and then I sprinkled the dirt on his grave," said Meyer. "I said, 'He never came home, so we brought a little bit of home to him.' Later on, I learned that someone videotaped that, and his brother, 97, was able to watch the video in his nursing home.
"Those abstract ideals of freedom and liberty became real on that beach," continued Meyer. "So we take this day to remember those who've died for our country and thank the American Legion for advocating for the veterans still among us."
Fairfax City Councilman Sang Yi, a lieutenant commander in the U.S. Navy Reserve, called Memorial Day "a solemn day – a day for heroes. And he noted that, earlier that day, he and his wife and children visited the grave of his friend, Frankie Toner, at Arlington National Cemetery.
Yi and Toner attended the U.S. Merchant Marine Academy together. And while Toner's headstone lists all the medals he earned – including the Silver Star, awarded posthumously after he died saving others in Afghanistan – Yi said it doesn't reflect his "infectious smile and the warmest heart you've ever seen."
"What's so important about this day is that, although we may not know each other's pain, we share it," continued Yi. "And the memories of those who gave their all will live on forever in our hearts and in all the stories we tell about them."