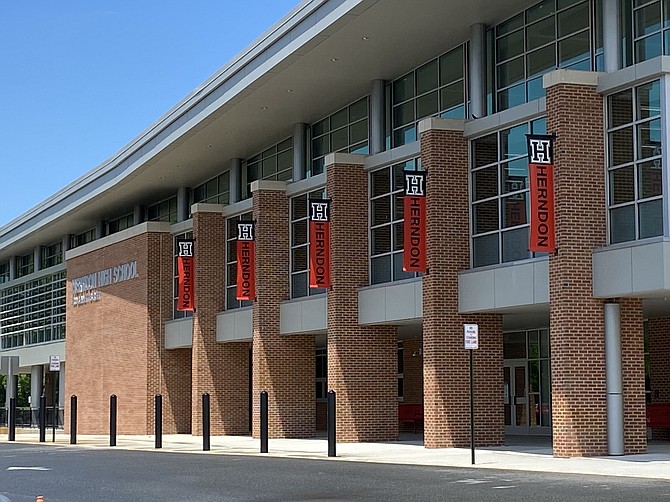 Herndon High School held its "Class of Two Thousand Twenty-One Commencement" on June 2 at Jiffy Lube Live in Bristow, Va. The school serves the Town of Herndon and the northern part of the unincorporated community of Reston. Local County school board representatives and elected officials, the school's administrators and staff, family, friends, and supporters of the graduate candidates attended the program.
The Senior Class Council narrated the program. McKay Beasley recalled how seniors adapted and made it out of the pandemic with "newfound grit and resilience." Genaro Mejia brought to focus that graduates could "rise by lifting others" and that "Herndon Hornets don't hate."
Principal Noto recognized the school's academic scholars. She noted the Class of 2021 received over $3M in local and national college scholarships. "We wish them well as they extend their influence on new arenas," Noto said.
Aamirah (Molly) Malik said the Class of 2021's gift to the school was a "functional and practical" spirit vending machine. Students could spirit items and school supplies. According to Lucille (Lucy) Brown, the gift would be a fundraising opportunity for the school.
Dr. Liz Noto, Principal, presented the Faculty Award to Harol Jimenez, "a one-of-a-kind student…a leader and mentor. "[This] is just the beginning for him," she said.
Asjah Snead addressed fellow grads, saying, "All the long nights, tears shed, and breakthroughs have brought us here today…beautiful things take time. The pandemic tested our ability to be adaptive, and our patience grew." Susan Rahimyar cautioned that life would put obstacles in their paths. [But], we don't grow when things are easy. We grow when we face those challenges," she said.
Guest speaker Yasmin Petras, Social Studies teacher at Herndon High, recalled escaping her home country and standing on a mountaintop between Afghanistan and Pakistan. "I was crying because I didn't want to leave home, my friends, my family, and I really didn't want to become a refugee." She said if she could have foreseen her future, to be in the presence of such wonderful, incredible young people at Herndon High, she would have "plummeted down" that mountain with joy.
"Because not only have you changed my life, my process of thinking, but you are also brave enough to walk towards your own unknown future with grace, humility, and hopes to make this world a better place for all of us," Petras said.
Herndon High School Graduation on Livestream is available for viewing.