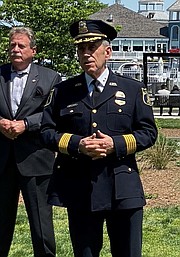 Alexandria Police Chief Michael Brown announced he will be stepping down from his position effective June 25, leaving the department just over four years after his appointment as Chief of Police.
In a June 4 email to APD officers and staff, Brown cited family priorities and a pending return to California as his reason for the sudden departure.
"This has been a difficult decision for me and is based upon several changing family priorities which have been going on for the past few years," Brown said. "After nearly 46 years of public service, I believe it is very important for me to give these priorities the attention they are due."
Brown was hired in January of 2017 to lead the department following a career that included time as Chief of the California Highway Patrol.
"I want to thank Chief Brown for his many initiatives in addressing 21st-century policing opportunities in the Alexandria Police Department," said City Manager Mark Jinks. "Continuous improvement is a value of our City government and Chief Brown embraced that value wholeheartedly, to the benefit of Alexandria residents and businesses. He provided solid leadership through challenging times for policing and worked to build trust in the community."
Along with Sheriff Dana Lawhorne, Brown led the city as the national spotlight turned to Alexandria when a gunman opened fire on June 14, 2017, during a congressional baseball practice at Eugene Simpson Field in Del Ray. Wounded were U.S. Rep. Steve Scalise, U.S. Capitol Police officer Crystal Griner, a congressional aide and a lobbyist. There were 24 members of congress on the field.
"Chief Brown's first crisis was an international news story, the congressional baseball shooting at Simpson Field," Lawhorne said. "He insisted that me and the fire chief stand with him during his first press conference. It was a symbol to our community that we stood united and things were going to be okay. That single gesture was the image that people still talk about today and I give him all the credit."
His leadership continued during the COVID-19 pandemic and the months-long social justice unrest following the murder of George Floyd by a Minneapolis police officer in May of 2020.
"Chief Brown actually cared about the people," said Officer Bennie L. Evans Jr., who has been with the APD for 23 years. "He came at a time that we needed him and planted a seed that I hope takes off."
Evans said Brown was faced with difficulties due to the decisions of the city manager and city council.
"City Council gave Chief Brown a police department but didn't give him the resources to keep it functioning," Evans said. "And it's not just the APD. It's also the Sheriff's Office and Fire Department. The city is not giving us the resources to function the way citizens expect us to function."
During his time in Alexandria, Brown helped to implement best practices through neighborhood protection, community policing, traffic safety and strategic planning. Accomplishments during Brown's tenure include APD's progress in building relationships with Alexandria residents and neighborhood groups; commitment to implementation of the city's Vision Zero Action Plan through education and modernized equipment; and the creation of the department's Peer Support and Resiliency Program to enhance employee well-being.
"The APD is a special organization filled with very special people," Brown said. "It has been an extreme privilege for me to work with them, listen to them, and stand alongside them. The city's Police Department is not like some others we hear about in the news. It is indeed special in many ways and has a longstanding history of serving the city. I am confident that tradition will continue."
The city will retain an executive search firm to recruit Brown's replacement. Jinks is expected to name Assistant Chief Don Hayes as Acting Chief of Police.
Added Evans, who also spent three years with the Sheriff's Office, "What hurt Chief Brown and Assistant Chief Don Hayes, along with the Sheriff's department and fire department, is that the city manager and City Council are not being honest about the problems facing staffing of these agencies. I wish he could stay longer but I understand his commitment to his family but I am going to hate to see him leave."