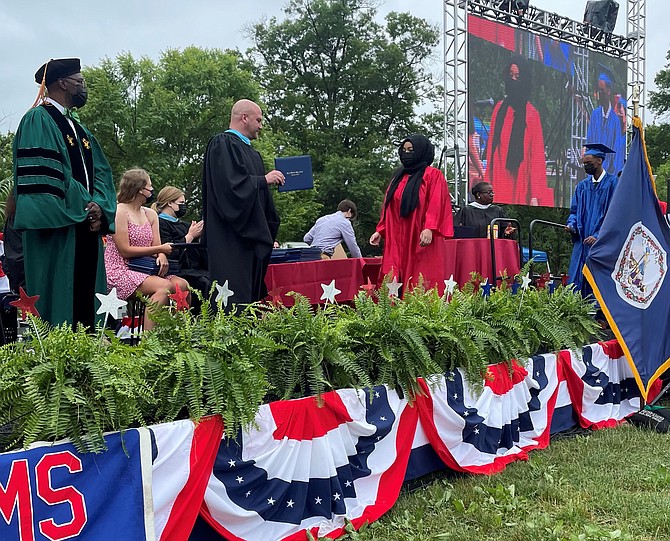 It was a day of celebration as the T.C. Williams High School class of 2021 bid farewell to a year of quarantines, remote learning and canceled social and athletic events during the June 12 commencement ceremony at Chinquapin Park.
"This feels like we are finally on the right path," said graduate Dajmawi Abebe, who will be attending George Mason University in the fall. "I was as confused as everybody else this last year, but we were hoping for the opportunity to graduate in person.
Masks were required for the in-person ceremony, which was limited in attendance with two tickets allotted to each graduate.
"This is a happy but also a sad day for us," said Lee Quill of the graduation of his daughter Maddie. "We know she's going off on her own but we feel tremendous pride in who she is and who she is becoming."
Michael Carrasco's daughter Gloriana followed in the footsteps of her brothers, who graduated from T.C. in 2019 and 2020.
"We are very excited for her," said Michael Carrasco. "We are very proud and are encouraging her to go conquer the world and follow her dreams."
Angela Willmore was on hand to see her daughter Grace graduate as part of the final class of T.C. Williams High School, which officially becomes Alexandria City High School effective July 1.
"We are fortunate to be able to be here in person and see all the graduating class walk across the stage," said Angela Willmore. "That was really important to the students and we are thankful to Mr. Balas and ACPS staff for making this happen."