Moe's Peyton Place in Springfield has found itself suffering from an obscure location and a lessened crowd due to the pandemic, but in steps a local garage band called "Konjur," and things are looking up for both of them. Konjur is putting on shows at Moe's to bring in business, and band members eat there a few times a week, so it works for both of them - Moe's is providing the band a local venue for the jams too, so everyone is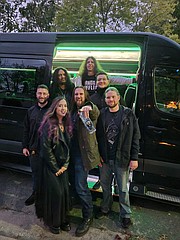 happy.
Moe, of Moe's, died a few months ago and his wife Mima is barely keeping the doors open, so Konjur stepped in a few times, including a show last Halloween.
"We really want to give back to the community," said singer/songwriter Joseph Mark Fields, who lives in Franconia right down the street where the band practices.
"When Covid hit, she was spiraling down," Fields added, noting they raised over $2.000 on Halloween. "We had to play outside, we still had a big crowd," he said. That night in October, another friend chipped in and got the band a limousine to ride to the show in, so the band had their moment of fame, showing up in the limo like big name rock stars. "We had this grand entrance on the party bus, it was so cool, we thought we were rock stars," he added.
The five-member band is made up of "Shade," aka Anthony Rappaport, on guitar and songwriting, Matt Royfe on the drums, "Skully," aka Tyler DeButts, on the bass guitar, Joseph Mark Fields the singer, Christopher Dokken on guitar, and Jalen the band manager. They put out covers and originals in a jazz-funk-heavy metal motif. "Everyone has a hand in the song writing," added Jalen.
One of their hits, "Without Lines," can be described as a song with night-sweat terror vibes and a world of chaos, said Fields, while another song "Oh No," has a 1980s feel, and "Draft," is "more of a freestyle," Fields said. In fact, so free that the song name hasn't stuck yet. "We keep renaming it," Fields said. They also play some covers like "Rock You Like a Hurricane," by the Scorpions. There's an album in the works too.
"Any new songs, we shoot the breeze on the thoughts," Skully added.
The Scorpions' tune is categorized as '80s heavy metal, but they also do lighter covers], like "Pretty Woman," by Roy Orbison from the 1960s. "We
When and Where
Konjur in Concert, benefit show for Moe's Peyton Place
Saturday, July 10, 6-9 p.m.
6516 Backlick Road
Springfield
don't shy away from lighter music," Fields said.
Band's Formation
Konjur got its start over the last couple of years when the musicians just kind of stumbled into one another in an unofficial manner, and started jamming together. Now they are comfortable jamming into the rec room of their house in Franconia, shoving aside the collection of patch cords and used audio equipment, and coming up with music they will take on the road. "There's a brotherhood, a lot more than just a family, it doesn't stop with the band," Fields said
They all went to school around the Franconia area, and have jobs close by too. Fields works with the teenagers at Key Middle School, the Browne Academy in Alexandria and Bush Hill Presbyterian Church. Shade teaches music and is involved with the Berklee College of Music, while Skully works off and on with Amazon, Royfe is a GMU student, and Dokken is a bartender.
They are in the process of doing a music video too, with a professional videographer. Band members have done all kinds of remote shots, and the producer will edit it so they end up on stage together for the last lick. "He has a whole vision," said Shade.
Later in June, they are doing another benefit for those locally impacted by the pandemic, and then they plan to travel, taking their show on the road. One place they mentioned was a place called "Hillbilly Heaven," in West Virginia.