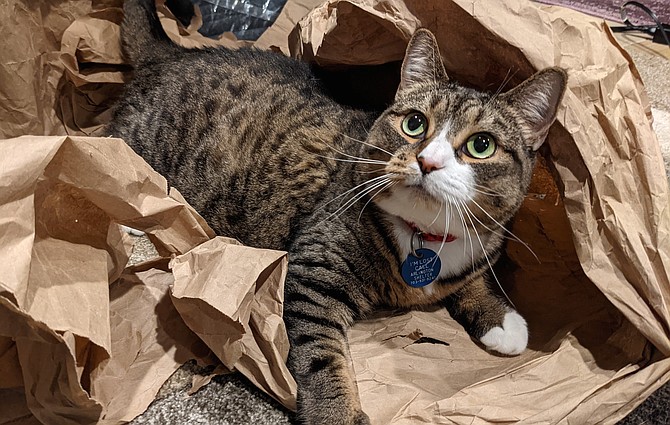 After more than a year of offering only very limited access to the public, the Animal Welfare League of Arlington (AWLA) is now officially open for walk-in shelter visits. And while 2020 was a busy year for AWLA, with so many people seeking out pets as they quarantined, there are still so many fantastic animals who need permanent homes.
Currently, AWLA has more than 50 cats available for adoption. One of them is Hollyleaf – a sweet, independent domestic short-haired cat who has been with AWLA for more than four months, and with an AWLA foster family for two of those months.
"Hollyleaf is roughly five years old, and she's a great mix of play, social, and sleep, which allows her to be independent but also happy to be around her humans when they are home," Laura Fortner, Hollyleaf's foster caretaker, said. "I work from home right now and I spend that time with her in our foster room, where she will sleep and sit right next to me for the entire workday and will often walk onto my desk or get in my lap for attention."
Hollyleaf's life has not always been so easy or comfortable, though.
"We transferred Hollyleaf to AWLA from a shelter in Baltimore, and she was in very rough shape when she arrived," Chelsea Jones, AWLA Senior Communications Specialist, said. "The Baltimore shelter discovered she was diabetic, and unfortunately, a diabetic cat was not something they had the resources for. So, she came to us, and we started her treatment for diabetes."
Hollyleaf has rebounded since coming into the care of the AWLA network.
"We have had Hollyleaf for about two months and when she came into our care, she had a distrust of people and a fear of too much change at once," Fortner said. "After several months of recovery and with lots of work at AWLA and in our foster home, she is completely over that wariness and happily welcomes any person into her space. She will always take cheek rubs and will stick her perfectly round face right up to your hand so that you know where she wants the pets."
The AWLA staff echoes these sentiments about Hollyleaf's progress.
"Hollyleaf has turned into a completely different cat … friendly, affectionate, and she has no problems taking her insulin," Jones said. "Now that she's with the Fortners, she is really letting her goofy side show, and while she's still a little spicy, it's easy to fall in love with her big personality."
Hollyleaf would be the ideal companion for someone who does not have any other animals in their home, and who needs a little more daily conversation.
"She can be very chatty, especially when I leave the room and come back," Fortner said. "She likes to tell me all about her day so far as I'm walking down the stairs. Then she flops onto the rug at the bottom of the stairs and looks up at me for head scratches and back rubs, possibly some playtime, and always is up for a treat."
Those interested in Hollyleaf should not let her diabetes intimidate them, either. Hollyleaf has grown accustomed to the treatment, which amounts to just two quick, simple daily insulin injections at breakfast and dinner times.
"She is a great eater and very food motivated and is completely comfortable with someone pulling at the nape of her neck a bit to give her the injection," Fortner said. "It takes five seconds to provide the injection."
To learn more about Hollyleaf, visit https://www.awla.org/pet/hollyleaf. Interested adopters can also email adoptions@awla.org.