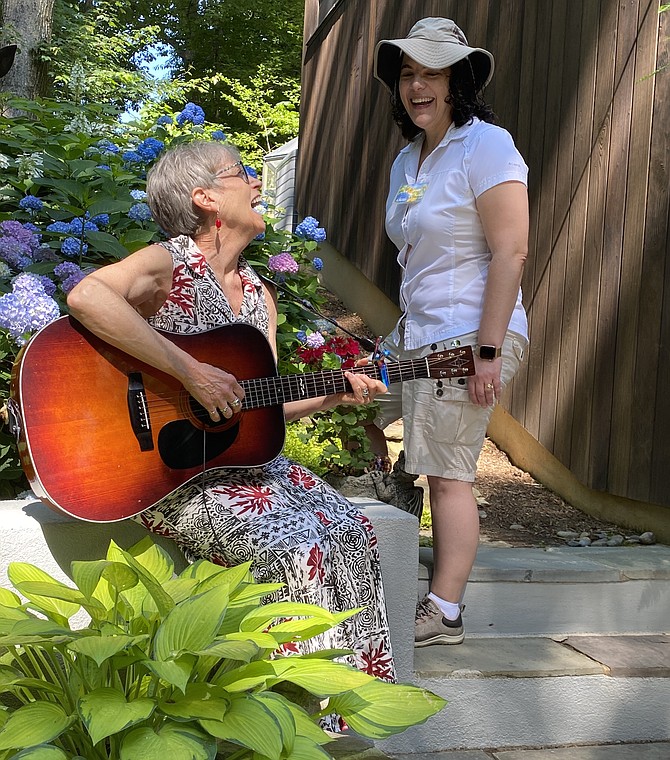 Ticket holders for Gardens of Note 2021 enjoyed the self-guided tour of five residential gardens in Reston plus pop-up musical performances by members and friends of The Reston Chorale, a Fairfax County choir. Held Saturday, June 5, the Chorale, in partnership with The Reston Garden Club, presented the much-loved event that benefited the two non-profit organizations. 
"'We're very happy to participate and give back to the community with music and beauty in the gardens," said Kathleen Gohn, Chair of Gardens of Note.
The 2021 tour featured five Reston gardens, one being the lakeside property co-owned by Cindy Brown and Chuck Daoud. Ground cover plants and flowers gently meandered near the flagstone hardscapes and stepping stone staircases. They transformed the previous sloping terrain into a colorful and textured woodland oasis.  Brown said a spontaneous meeting with Gohn triggered the garden featured on the tour.
That morning, Nancy Riley of Herndon played her guitar in one of the garden rooms. She said, "I'm a long-time Chorale member, and Gardens of Note touches two important things in my life, music, and flowers."
Chorale member Melissa Cyrulik of Potomac Falls, Md., said she joined during the pandemic. "Being here in the garden gives me a chance to meet my [fellow] Chorale members."