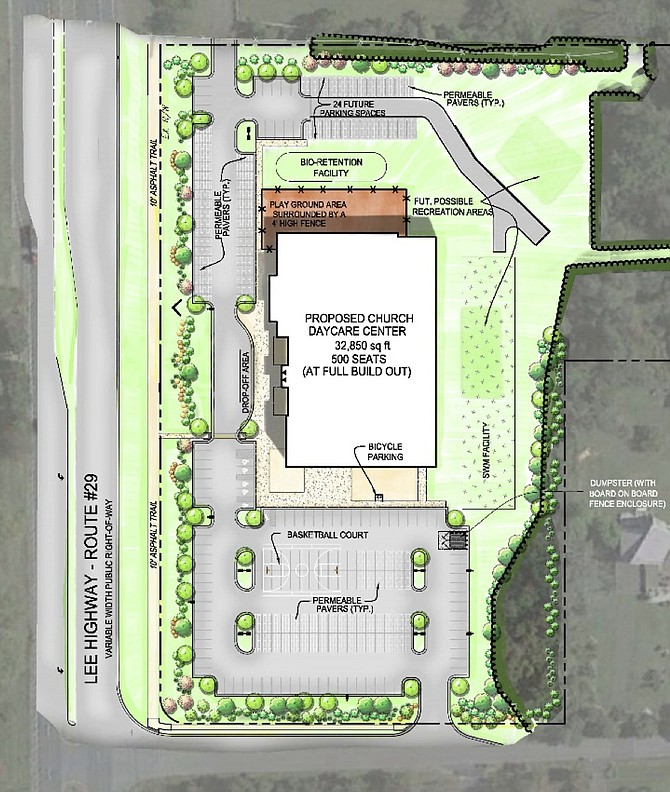 A new church is coming to Centreville. The Fairfax County Board of Zoning Appeals (BZA) recently approved Centerpointe Church's application to build a place of worship and a childcare center there.
Initially, New Life Christian Church owned the land, but Centerpointe Church later purchased it. In her report about this project, BZA Senior Deputy Clerk Mary D. Padrutt stated that the new plan for this site contains a number of benefits to Fairfax County and to the community.
They include "a reduction in [density], increased setbacks from the neighboring properties, the sidewalk and the extended turn lane, which will offset any traffic concerns," she wrote. "In addition, there is the stormwater management plan, and an undisturbed, open-space area of 50 percent, which will be provided through a conservation easement. These are all positives for the area, and consistent with the [county's] Comprehensive Plan."
The site is on 11 acres of land zoned Residential-Conservation at 6611 Cedar Spring Road. And the applicant needed the county's blessings to amend the previously approved special permit for that parcel.
Representing Centerpointe, attorney Lynne Strobel presented details of the proposal to a joint meeting of the Sully District Council (SDC) and the West Fairfax County Citizens Assn. (WFCCA) Land-Use Committee, prior to the BZA's decision. She said the sanctuary would have 500 seats, the childcare center would have a maximum daily enrollment of 150 children and there'd be 220 parking spaces.
TRANSPORTATION IMPROVEMENTS will be a 10-foot-wide, asphalt trail on Route 29; a 5-foot-wide sidewalk on Cedar Spring Road; right-out access to Route 29 or interparcel access to the east; one-way, traffic circulation for the childcare center; and a new, left-turn lane on Route 29 onto Cedar Spring. The church also plans to preserve the existing, mature trees onsite, plant landscaping and add a conservation easement, so the trees can't be disturbed unless the county agrees.
"We're providing better buffers than were originally proposed," said Strobel. "And we've had three meetings with the Cedar Springs community. We're providing a police officer for Sundays [to direct traffic] and would move the bus stop to make it safer for waiting, school children. Our construction access will be directly to Route 29, if VDOT permits it."
She said the other side of this property is the Mulford School, and parents bringing their children to Centerpointe's childcare center would enter the site via Cedar Spring and leave via Route 29. "The site doesn't currently have stormwater management, and we'll provide it," said Strobel. "And the church will only be 30 feet high to be compatible with the surrounding community."
WFCCA's John Litzenberger asked how many cars can be stacked in the left-turn lane turning into the church. And Transportation Engineer Will Johnson, of Wells & Associates transportation consultants, replied, "We're proposing a 300-foot turn lane with a 100-foot taper to hold 12 vehicles."
Litzenberg said that turn lane "won't be long enough with 150 kids showing up for daycare."
But Johnson said the students will have staggered hours and arrival times, "depending on their parents' convenience. We don't anticipate a huge crush of traffic."
Still, Litzenberger said Johnson was "underestimating the traffic there. On Route 29, all the overflow traffic from Fauquier and Prince William counties from I-66 will cause the cars there to stack up and go into the left lane of Route 29 southbound during rush hour."
And SDC's Jay Johnston asked how they'd adjust to traffic resulting from other, nearby schools. Johnson explained that "We used VDOT's pre-COVID traffic data" to make this determination. And another traffic engineer, John Levtov, said the turn-lane length limit is 300-350 feet because of the other neighbors' turn lanes there, plus the existing physical features.
ULTIMATELY, the BZA unanimously approved the proposal May 19, and Padrutt's notice of approval contained a long list of conditions with which the church must comply, including:
*The maximum number of seats permitted in the sanctuary is 375 in Phase 1 and 500 in Phase 2;
*The maximum, daily enrollment for the childcare center is limited to 150 children at any one time;
*Hours of operation for the childcare center are limited to 6 a.m.-6:30 p.m., Monday-Friday; and
*Parking must be provided as generally depicted on the special-permit amendment plat. All parking for the church must be onsite.