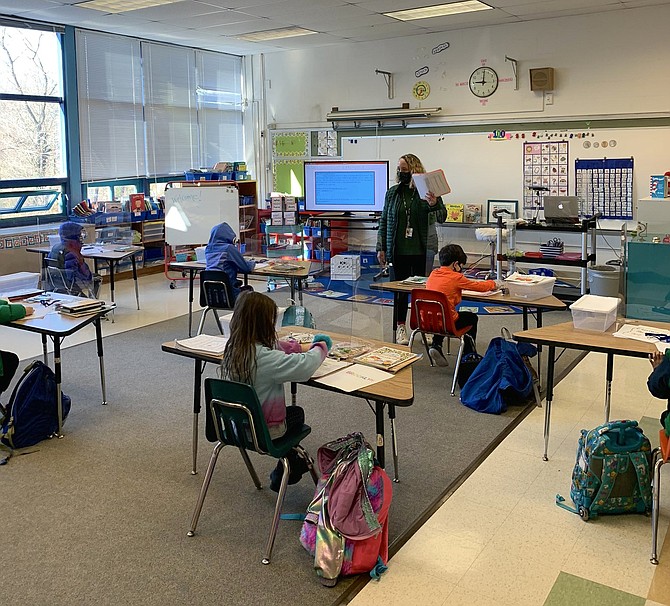 Load up your backpack, wash your hands, complete your daily online symptom screener, put on your mask, and head for the school bus. It's March 2, and it's the first day of hybrid school for K-2 students in Arlington.
The timeline calls for five levels of return prioritized by students' level of need and ability to access learning remotely. Grades 3-5, 6 and 9 and secondary special education students are scheduled to return for concurrent instruction March 9 and grades 7-8 and 10-12 to return for concurrent instruction March 16. Career and Technical Education Students returned Feb. 3.
Concurrent instruction involves teaching students who log in from home and students in the classroom getting the same instruction from the same teacher at the same time. Teachers will instruct both groups of students simultaneously, whether the teacher is in school in person or teaching remotely. This may mean that some students in school will receive instruction from a teacher who is remote; these students will be monitored and assisted in-person by classroom assistants.
Unless noted by specific requirements for schools or programs, will report two days a week on Tuesday and Wednesday or Thursday and Friday.
In Arlington 7,017 elementary students or 52 percent have chosen hybrid learning while 5,274 or 42 percent have chosen distance learning.
Fifty-four percent or 7,292 of secondary students have chosen hybrid while 5274 or 39 percent have chosen distance learning.
In preparation for school reopening teachers and staff reported to work the weeks of Jan. 25 and Feb. 2 to become familiarized with mitigation measures, classroom set up and instruction in the hybrid and concurrent models.
APS conducted a brief survey to gather input on teachers' experience and found just over 50 percent of almost 3,000 responses agreed they understand the mitigation strategies in place and know the health and safety procedures to follow. Forty-six percent agreed with the statement that the mitigation measures in place in their building are consistently adhered to by their colleagues.
Their concerns about high quality instruction in person ranged from social-emotional well being for myself (14.3 percent), for the students (13.9 percent), to limitation of mitigation measures on small group instruction (14.5 percent) to technology applications (15.6 percent) and disruption of contact tracing (10 percent).
The school experience will be different this year including new safety protocols and COVID tests, restructured transportation routes with reduced number of children on each school bus, distancing at meals and outdoor alternatives, to new rules for sports participation.
A daily health screening will be required prior to arrival at bus stops and schools for all students attending in-person instruction. The daily screening and questions will be sent to every parent and guardian by text and email every morning at 5:30 a.m. The health screening tool will be available in English, Arabic, Amharic, Mongolian and Spanish. Only those participating in sports will be required to submit the survey seven days a week.
School meals will feel different with new guidelines on breakfast and lunch with six-foot distancing and clear partitions for lunch in classrooms, 10-foot distancing in larger communal spaces like gymnasiums and outdoors where feasible with staff supervision.
Schools are urged to hold lunch outdoors with creative solutions where possible pending high winds, icy or wet conditions or a wind chill below 32 degrees. Schools are encouraged to use outdoor spaces to the extent possible.
School bus routes are entirely new with drivers trained on the new routes the week before school started. They have completely changed in response to the new requirement of only 11 passengers per bus and buses moving quickly back and forth to schools. Pickups may be earlier and students will have only one bus stop.

Arlington County Police Department (ACPD) is joining the back to school effort by encouraging the public to re-familiarize themselves with the location of school zones, applicable traffic laws (including those pertaining to school buses) and tips to keep students safe. They have installed message boards along roadways to remind motorists to slow down, avoid distractions and watch for students as well as signs indicating temporary parking restrictions near schools.
The monitoring report released by APS indicates APS continues to follow a holistic mitigation approach recommended by the Centers for Disease Control (CDC) and Harvard School of Public Health. This includes strong mask requirement, de-densification, social distancing, good hand hygiene and improved ventilation including strong metrics for evaluation of air quality and ventilation. APS said 98 percent of the classrooms meet or exceed air quality requirements. APS requires all students and staff to wear a face covering during school and activities and will provide every student with two face coverings that meet guidelines.
Superintendent Dr. Francisco Duran's Return-to-School Update of February 23 concluded, "We know every transition brings different emotions for all, and that many have looked forward to this transition for some time. We are looking forward to seeing more students in person soon and continuing to support all students."