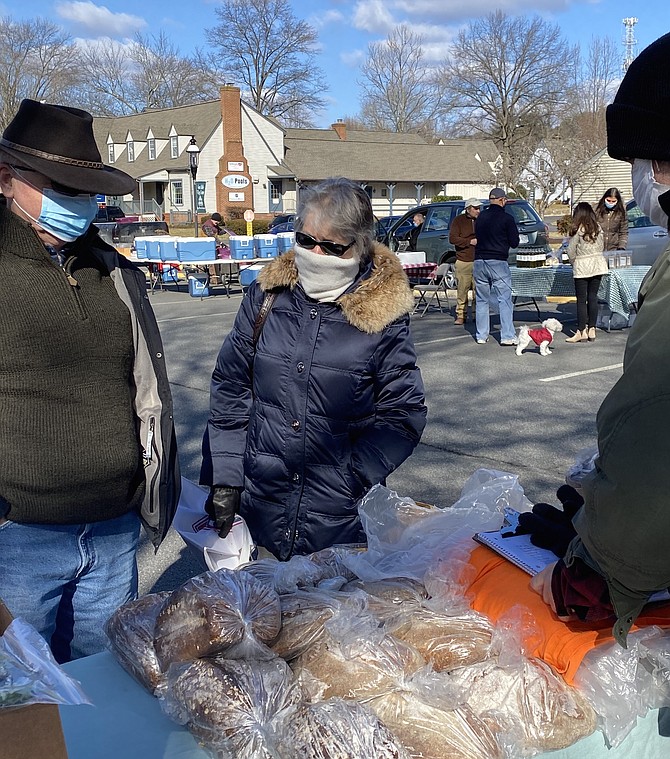 Even though winter continues in the area, the Great Falls Community Farmers Market drew customers to its location at 778 Walker Road, Great Falls, on March 6.
Some of the vendors present that day included Rustiq Bakery & Cafe from Historic Savage Mill, Md. Market tables featured hand-made croissants, loaves of artisan bread, pie slices, and more. As they browsed Rustiq's offerings, Jonathan Steidel greeted customers looking to purchase as walk-up sales or add to their pre-order sales where full-size pies were available. "I've come nearly every (market) day," said Steidel.
David and Elizabeth Hunt of Great Falls arrived shortly after the 9 a.m. market opening and made their bakery selections. The couple said they come to the market "just about every week."
Tyme Foods offered its 2020 olive oil harvest from the South Lebanon/Upper Galilee region bottled in Great Falls for Saturday's market. According to the market website, "This year's harvest is exceptionally fruity with acidity tested at 0.19 percent."
Select Greek delicacies from local Our Mom Eugenia restaurant drew faithful followers, as did Liberty Farm Hill known for their pasture-raised turkeys, grass-fed beef, and woodland-raised pigs. Coolers lined the booth area, ready for market shoppers.
For more information about the Great Falls Community Farmers Market (open from 9 a.m. to 1 p.m. on Saturdays) visit the market online and click on hyperlinks to each week's vendors to assist with pre-orders.