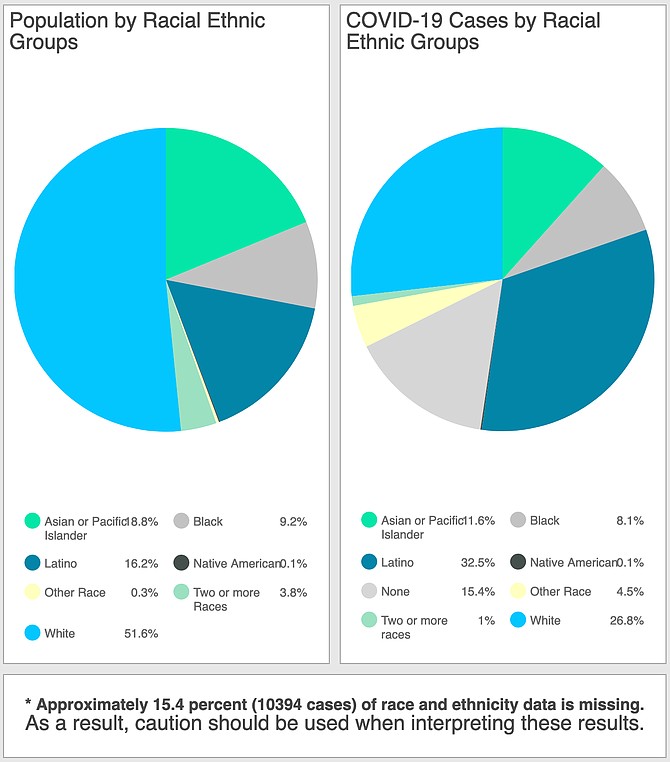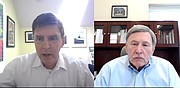 Year 1: Covid-19 comes to a close on March 10, 2021. In an interview with the Connection Newspapers on March 3, Fairfax County Supervisor John Foust (D-Dranesville District) and Supervisor Walter Alcorn (D-Hunter Mill District ) discussed the County's testing/vaccines and economics responses in Year 1 with lessons learned. The discussion that followed centered on County plans in Year 2: COVID-19 for equitable adaptive outreach and recovery institutions, assuming a reduction in cases.
On March 11, 2020, the World Health Organization declared the coronavirus outbreak a pandemic.  WHO Director-General Dr. Tedros Adhanom Ghebreyesus said, "We are deeply concerned both by the alarming levels of spread and severity and by the alarming levels of inaction. We cannot say this loudly enough or clearly enough, or often enough. All countries can still change the course of this pandemic."
Foust said the single most aggressive action the County took to change the course of the pandemic was an economic response, beginning with backing off from making new investments in the budget. The County put $52 million into a small business grant program (Fairfax RISE Grants).  Next, tens of millions of dollars in federal funding helped people with their rent, utilities, and food (CARES Act).  Foust said, "We invested in temporary housing for homeless people and people who needed to be isolated but didn't have that opportunity given their crowded living situations." The Fairfax County program is called the  SF6 Mass Care Health and Human Services to provide Quarantine, Protection, Isolation/Decompression. 
Alcorn said that these things would not have happened if Foust had not pushed the way he did. "Foust deserves the credit for exercising leadership on the board," he said. 
Alcorn called for ongoing and future pandemic course corrections via Board Matters to update the current ones or present new ones.  He referenced the need for improved transparency in real-time information for vaccines related to his Joint  Board  Matter with Supervisor Foust presented on Feb. 9. 2021. 
Meanwhile, the staff had been directed to send registrants weekly texts and email updates to confirm their placement in the queue, progress made, and how many registrants were ahead. Alcorn said, "Not all of those items have been implemented."
Alcorn said the County chose not to go with the statewide vaccination registration system because the County's system was "demonstrated and proven.". He said no change to the state system should occur during the pandemic. The County might consider implementing it down the road, but it would have to provide functionality beyond what the County currently offered.
Foust added the County had a great Department of Information Technology, very consumer-friendly and easy to get hold of if there was a problem. Turning it over to the State of Virginia would have created a "somewhat impersonal arrangement."  "Knowing who to call is an awesome thing when you're in an emergency," Foust said.
Asked what had been most disruptive to them during the pandemic, Foust said going virtual in everything. The ability to interact live with people and bounce ideas off each other was gone. "We're managing, but it's better when we're not virtual," Foust said.
Alcorn flagged the limitations on face-to-face community meetings and discussions. In some ways going virtual made meetings more accessible, but it wasn't the same. Virtual meetings needed to be deliberative, and there were fewer opportunities for an informal discussion. 
The Fairfax County COVID-19  Vulnerability Index underscored how best to target interventions and resources in Year 2: COVID. The pandemic did not impact all individuals and districts in the County equally, nor neighborhoods within those districts equally.  While COVID-19 is a health crisis, vulnerability is tied to individual characteristics such as age and race/ethnicity. That is considered against social and economic conditions in the community, such as employment, housing, transportation, and the like.
THE SUPERVISORS' DISCUSSION centered on vulnerable individuals, the elderly and people of color, and job losses in vulnerable industries, like retail and food services, where most workers were people of color. 
As for recovery from the pandemic's economic fallout, Foust said that during the early months of the pandemic, the aim was to get small businesses through it, "almost a life support effort."  The economic fallout of the pandemic hit disadvantaged communities the hardest.  Foust pointed out that 80 percent of small businesses supported were women, minority, and veteran-owned. 
In late Year 1: Covid, the County had turned its attention toward developing an economic recovery strategy that fostered an equitable, inclusive framework enabling everyone to succeed.  The County engaged a consultant, HR & A, to develop the plan and present it on March 16, 2021, with proposals.  
"(It includes) spending up to $15 million. I think that was the number we chose from our economic reserve fund to start stimulating our recovery effort and to focus, especially on those industries that were most impacted, which are hospitality, restaurant, and retail," Foust said.
Alcorn concluded the discussion by focusing on how best the County can get vaccines out to everyone. The County engaged faith-based communities with minority members who were vulnerable and had reason to be suspicious of mass vaccination programs. Alcorn said they learned by experience when rolling out testing that it wasn't good enough to set up sites and expect people to get there.
 "We got to the point of sending out mobile testing centers...micro-targeted to do the testing in communities where there were outbreaks underway... We're moving down a similar path with vaccinations," Alcorn said. The County also learned people trust their doctors, so they would be pushing vaccines there.  
THE LAST THING Alcorn learned from the Health Department he called "fascinating."
"It's not good enough to just have 75 percent of the overall population inoculated to get herd immunity. You really have to get 75 percent of each community inoculated. Otherwise, we'll still have hotspots and clusters of cases that will keep the pandemic going... I know we'll be pushing from the Board for all sorts of creative strategies to get in there."