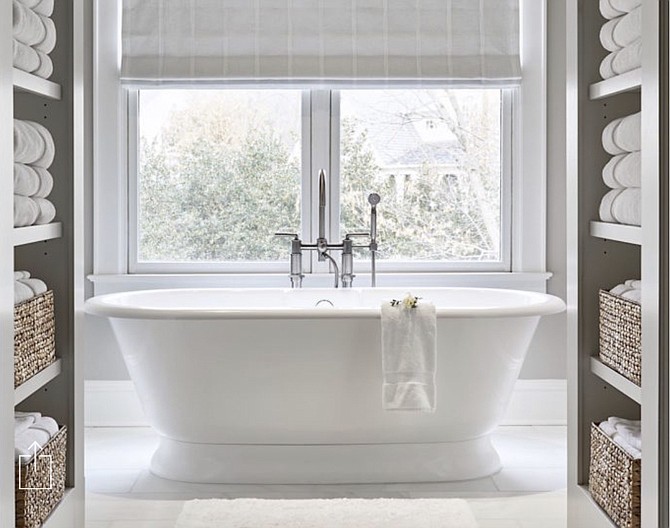 After relocating to McLean from the West Coast and purchasing a home, the family knew that major changes were needed to accommodate their family, which includes two children. The couple enlisted the help of McLean based interior designer Tracy Morris of Tracy Morris Design.
"The home had sharp angles that disrupted the flow and wasted space that could be used for storage," said Morris.

One of the biggest priorities was to create a light-filled, family-friendly kitchen. "Our main goal was to have an island to feed small children and a space where the family could eat dinner at the table," said Morris.

An architectural overhaul was needed to accomplish that goal. The new design includes a butler's pantry and mudroom which allow for additional storage.
"The kitchen was bizarre and had a weird layout," said architect Sydney Davenport Katz of BarnesVanze Architects Inc. "There was one large island with two different heights.

"We regularized the shape of some of the spaces," she continued. "There were a lot of angled and sloping surfaces that we were able to eliminate"

Some of the kitchen cabinetry and part of a wall were removed. Floor-to-ceiling windows flood the room with sunlight. White cabinetry and marble countertops add to the space's light and airy feel. Morris used a neutral color palette throughout the home, which now includes an exercise room and playroom.

The second floor also called for a design overhaul, says Morris. "The master bathroom had a lot of chopped spaces. It was a bizarre design."

The original master bathroom had what Morris described as excessive storage space. Some of the closets were eliminated and the drop-in tub was replaced with a free-standing tub.

The home has five full bathrooms, two powder rooms, six bedrooms, including two guest rooms. The laundry room is located on the second floor.

"That project had such good energy," said Morris. "I'll always have great memories of it. There are just some projects in life that fall into place and this is one of them."