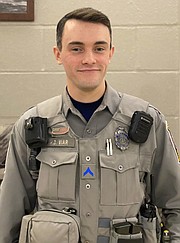 PFC Henry Viar has been named the Sully District Police Station's Officer of the Quarter for the fourth quarter of 2020. He was honored at the Jan. 13 meeting of the station's Citizens Advisory Committee.
In her write-up nominating him for the award, Sgt. Sharon Perry explained why he was deserving of the recognition. She began by stating that he's "repeatedly demonstrated consistent, outstanding work."
Calling Viar "always a very proactive officer and a team player," Perry said he works one of the busier service areas and is "constantly patrolling to keep the Sully community safe, both on its roadways and in its neighborhoods."
For example, she wrote, "In October, Viar was patrolling the area when he caught two subjects stealing catalytic converters from a local resident's vehicle. He recovered evidence at the scene and interviewed the suspects, who admitted to their activities."
Viar also caught two juveniles breaking into several vehicles, that same month. In their possession were items that tied them to numerous vehicle-tamperings and thefts throughout the neighborhood. Perry described their arrest as "critical," since people breaking into vehicles and stealing valuables from them is one of the Sully District's most common problems.
Then in November, she wrote, "While working on a special assignment to apprehend drunk drivers, Viar observed a vehicle speeding 120 mph on Route 28. The driver crashed into several vehicles stopped at a nearby traffic light. Viar was able to arrest the driver and subsequently found a BB gun, ammunition and a large quantity of THC [the main compound in cannabis] packaged for distribution."
In December, Viar responded to a call regarding a woman who reported that a family member broke into her house after being evicted. "Viar located the suspect, who was intoxicated and in possession of items taken from the home," wrote Perry. "Fortunately, no one in the house, including an infant, were injured during the incident."
But that's not all; Perry noted that, "Earlier this quarter, while off duty and responding to the station, Viar observed an officer from a local jurisdiction dealing with a volatile situation on the side of the road. The officer had no backup around and needed assistance, so Viar immediately stopped his vehicle, donned his equipment and aided the officer on the traffic stop."
For all these reasons, explained Perry, Viar deserves to receive the Officer of the Quarter award. "It's clear that PFC Viar's work ethic and motivation to keep the Sully residents and their neighborhoods safe is unwavering," she wrote. "We are fortunate to have him as part of the Sully team and look forward to his great and continued work in the future."