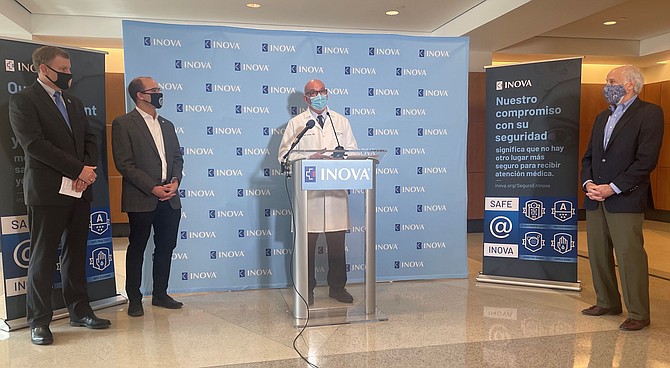 A large-scale vaccination center for Northern Virginia is slated to open by the end of March at the long-vacant Victory Center, with the ability to provide upwards of 6,000 doses per day of the Covid-19 vaccine.
Alexandria Mayor Justin Wilson, Fairfax County Board of Supervisors Chairman Jeff McKay and Inova Health Systems CEO Dr. J. Stephen Jones joined together March 9 to give a preview of the Inova Stonebridge Vaccination Center, which houses 64 vaccination stations in the 50,000-square-foot space on Eisenhower Ave.
"This is an opportunity to collaborate with local partners on a community and region-wide response to Covid-19," Jones said. "We will be open by the end of the month and able to administer 6,000 doses a day immediately with the ability to double that depending on the vaccines available."
The vacant interior of the Victory Center was redesigned to support vaccination stations, vaccination storage, sufficient ventilation and patient flow, and pharmacy space for vaccine preparations. The location at 5001 Eisenhower Ave. allows for easy access for Northern Virginia residents. There are more than 1,400 parking spaces.
"We are excited to have this high-capacity site and are grateful to Douglas Firstenberg and Stonebridge, who generously stepped up to the plate and agreed to partner with the City of Alexandria, with Inova and with Fairfax County to make this facility happen," Wilson said. "This is obviously not the ultimate vision we have for the future of this facility but appreciate the flexibility and herculean efforts of everyone involved in making this happen so quickly."
City of Alexandria has delivered at least one dose of Covid vaccine to more than 36,000 people; about 17 percent of Alexandria's population. More than 10,000 City residents have tested positive for Covid; 126 people have died. Register for the vaccine through the Virginia Department of Health at Vaccinate.Virginia.gov.
In Fairfax County, 68,932 people have tested positive as of March 10; 1,052 Fairfax County residents have died. Slightly more than 220,000 people in Fairfax County have received at least one dose of vaccine. Those living in Fairfax County can register at FairfaxCounty.gov/health or through the state registration system.
"In Fairfax County today, roughly half the county is eligible to get vaccinated," McKay said. "That is over 500,000 people and right now we are getting 19,000 doses per week. That is up from 13,000 a few weeks ago but we have been told by the Virginia Department of Health to expect a major increase in doses in the weeks and months ahead. The importance of this center is knowing that we will have the infrastructure in place to take advantage of every single one of those doses."
Jones acknowledged the hesitation of some to get the vaccine, even as thousands of people scramble every day to try to get an appointment to be vaccinated.
"I know there is still some skepticism among some communities about the vaccines," Jones said. "Nothing is 100 percent, but these vaccines are too close to 100 percent to be ignored. Critically, every single one of the currently available vaccines have been proven in studies to be 100 percent effective against severe Covid-19 and 100 percent effective against Covid-19 fatality."
Jones continued, "There are still almost 2,000 Americans dying every single day of this terrible disease. I consider the risk of the vaccine tiny compared to the risk posed by COVID-19. This is the most compelling risk-benefit analysis that has happened in almost 40 years in medicine."
The state recently expanded the 1B eligibility group to include food service workers. Strict PPE requirements, social distancing and cleaning and sterilizing practices will be observed at the vaccination center, which will be staffed by 64 vaccinators, 30 pharmacists and 20 administrators.
"I feel an overwhelming responsibility to do whatever it takes to get as many people in our community vaccinated as soon as possible," Jones said. "I feel very strongly that these vaccines are safe, effective and necessary and that everyone who is eligible should get the vaccine as quickly as possible if not for yourself but for your family, your friends and for your community."
Added McKay, "Continue to practice social distancing, continue to wear your mask, continue to follow CDC guidelines and make the necessary act of charity to get yourself vaccinated when it is your turn."
In Alexandria:
Vaccine supplies are limited, but you qualify right now if you:
Are 65+ years old

Have existing medical conditions

Work in one of these jobs:
Healthcare; Police, Fire and Hazmat; Corrections and homeless shelter workers; Childcare and K-12 teachers and staff; Agriculture; Manufacturing; Grocery store workers; Public transit workers; Mail carriers (USPS and private); Officials needed to keep government working; Cleaning/Janitorial staff; Faith Leaders.
Register for the vaccine through the Virginia Department of Health at https://vaccinate.virginia.gov/.
In Fairfax County
Vaccine Update: The county finished sending first dose invitations for people who registered on Jan. 18, and we are now on to Jan. 19. The data dashboard has been updated.
J&J approved: Johnson & Johnson COVID-19 vaccine is now authorized in U.S. and is extremely effective at preventing hospitalization and death. This means more supply and more options to help protect the community. Residents are encouraged to get whatever vaccine is available to them first.
Covid-19 vaccines are free.
Transportation Options: Fairfax has new transportation options for older adults, people on limited incomes, people with disabilities to get COVID-19 vaccine appointments.
The county continues to experience a high call volume to the call center.
Please continue to: wear a mask over your nose and mouth, stay at least 6 feet away from others, avoid crowds and poorly ventilated spaces, wash your hands often, and stay home when sick.