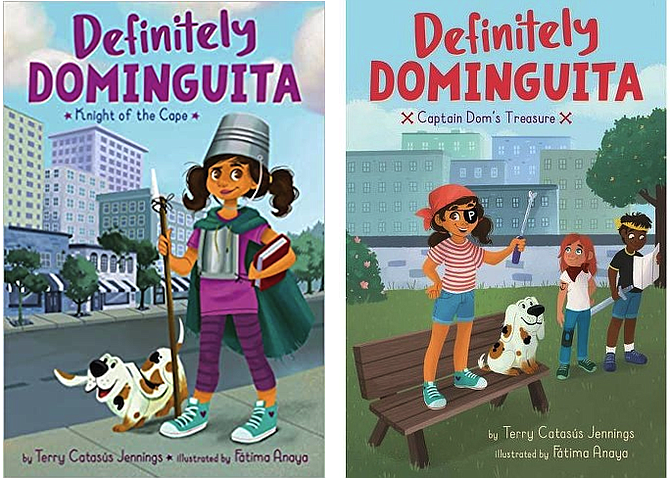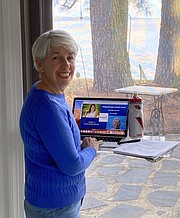 Terry Catasús Jennings of Reston is the author of the newly released children's chapter book series, "Definitely Dominguita," published by Simon & Schuster. It is available in English and Spanish.
"I knew from the moment that Terry sent 'Definitely Dominguita' to me that it was a special and important book. Seeing a Cuban-American girl as the center and hero of not just one, but a series of stories, fills my heart with joy. It's so important that the books our children are reading reflect and open windows and doors for everyone in America. And Terry's writing is just spectacular," said Natalie M. Lakosil, Bradford Literary Agency and Jennings' agent.
The series for reading age 6-9 years features a young Cuban American girl, an avid reader, who finds adventures based on classics she reads with her Abuela, Grandmother. As a child in Cuba, Jennings said she loved to read classic novels. Forced to leave Cuba after her father was imprisoned, Jennings said they immigrated to the United States, and she left her "skin behind." It is only through writing this acclaimed series Jennings rediscovered her heritage.
AS A CUBAN IMMIGRANT arriving at age 12, Jennings said her goal was to assimilate. "I wanted to be the same as everybody else because sometimes being Cuban meant being uncomfortable and sometimes meant being hurt." Jennings said she tried to learn English "really, really well."
When Jennings started to write in 2000, her characters were blond and blue-eyed or red-headed and freckled, not Cuban characters. "I didn't think that story was worth telling." It wasn't until 2008 when at a workshop, an editor told Jennings that she needed to write her own stories; she worked on one. However, it never got published.
As time passed and Jennings saw everybody else writing Latinx characters, she told herself, "By golly, this is the right time." The main character of her new series, "Definitely Dominguita," came to her one day as a little guy dressed in a cape. At first, the boy was named Don Quixote. "He just lent himself to being a Cuban American kid," Jennings said. Fortunately, Jennings' "very pushy daughter" told her she couldn't write the story with a boy character. It had to be a strong girl, hence Dominguita.
For Jennings, the characters she creates steal her heart. Jennings said she had forced herself as a young Cuban in America to leave "her skin behind." While she's very grateful that the United States took them because they didn't have anywhere else to go, be a family, and be safe. Still, while she is grateful to be an American citizen, she gave up her heritage by becoming so much American.
"A lot of the richness I'm discovering, I'm reclaiming now...I'm not as much a Cuban as I should be," Jennings said. According to Jennings, the series is close to her heart because it goes back to her childhood, and it gives validity to who she is. Jennings is glad things have changed for little kids, like her character, Dominguita. They are accepted. Jennings said, "The whole point of the book is so little kids like Dominguita can see themselves in her. And little kids who are blond and blue-eyed or read-headed and freckled can also see what Dominguita is like, see she is no different than they are."
JENNINGS said she loves her characters; they are just fun. Writing a book series allows her to finish one manuscript and then start another with her friends. "I like the way these little guys are, the way they act, and how they bring each other down to reality, but then they also support each other. I'm really enjoying the three of them," Jennings said.
"Definitely Dominguita" by Terry Catasús Jennings (Author), Fatima Anaya (Illustrator) is a four-book series by publisher Simon & Schuster: Knight of the Cape and Captain Dom's Treasure, Books 1 and 2, previous books in the series, Book 3, All for One, on sale Aug. 17, 21, and Book four, Sherlock Dom, on sale Nov. 16, 21. The series is available on Amazon.