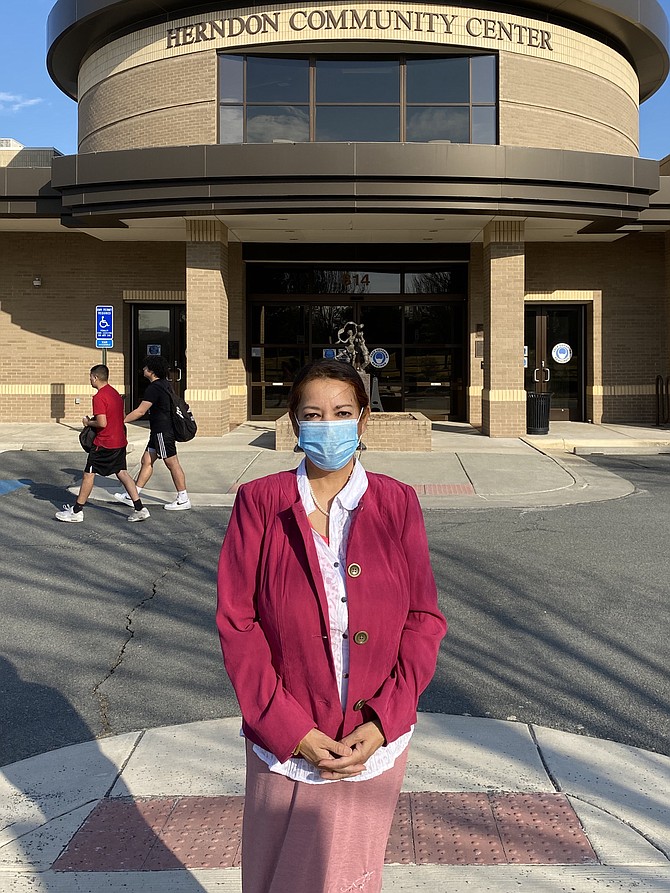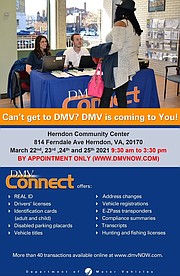 The Virginia Department of Motor Vehicle's service outreach program called DMV Connect is coming to the Town of Herndon, thanks to the combined efforts of the Virginia Department of Motor Vehicles, the Town of Herndon and Herndon Town Councilmember Naila Alam. DMV employee(s) will offer services by appointment only from Tuesday, March 22 through Friday, March 25, in Room 1 at the Herndon Community Center, 814 Ferndale Avenue in Herndon.
The effort to stand up the temporary program is the brainchild of first-term Councilmember Alam, who began serving on Council on Jan. 1, 2021. "I wanted to do something for my community...to help those where help is most needed," Alam said. She mentioned seniors and others who might be unable to travel to sites located a greater distance away.
"Hopefully, a lot of work needed by community members can be done," Alam said. DMV Connect offers 11 transactions, among them REAL ID, driver's licenses, ID cards (adult and children), disabled parking placards, vehicle titles, and hunting and fishing licenses. More than 40 transactions are available online.
Alam explained her idea to bring DMV Connect to Herndon, with services available to Town residents and others came about because of her experience when she attempted to get a DMV appointment for a REAL ID. Alam said she found nearby locations backed up for appointments due to COVID-19 and was forced to travel to Purcellville to get her REAL ID compliant license.
"Councilmember Naila Alam has made it her personal mission to help our citizens tap into essential resources," said Mayor Sheila Olem. "She has hit the ground running, by attaining a DMV Connect site in the town. She is working hard and tapping into her connections to bring this needed resource to our residents."
According to Virginia Department of Motor Vehicles (DMV), beginning on Oct. 1, 2021, the federal government will require all domestic air travelers to present a REAL ID compliant driver's license or ID card or another federally approved form of identification. Holders of licenses and ID cards that meet federal requirements will also use their Virginia DMV-issued credentials as identification to access federal buildings, including military installations.
Currently, the Department of Homeland Security has not released an approved documents list for federal facilities entrance. "Many federal facilities may have control over acceptable identification documents for entrance. If you are looking to enter a specific facility, DMV suggests contacting that facility directly. Effective immediately, some military bases may no longer accept non-REAL ID compliant credentials which display "Federal Limits Apply." Please verify identification requirements prior to your visit:" states DMV Now.
"This is their only scheduled visit, but I will...invite them to come here more often," said Alam.