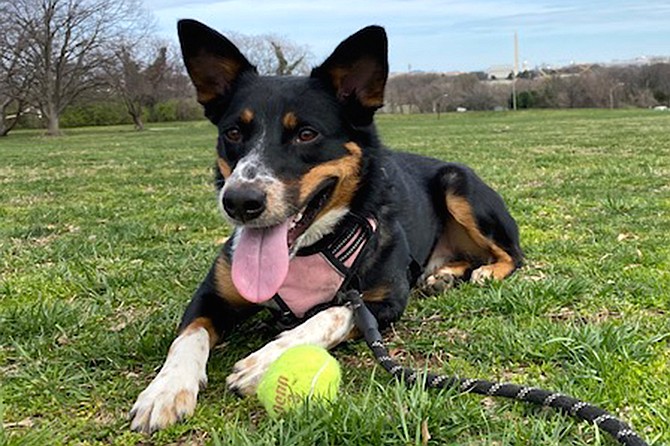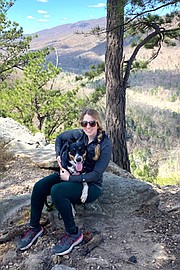 Downton Abbey's elder Lady Grantham wouldn't likely be found discussing underwear under any circumstances. Whereas four-legged Lady Grantham of Arlington has been known to tear through an entire collection, with her teeth.
With a last name like Grantham, Hannah couldn't resist naming her new Australian Shepherd/Australian Cattle Dog mix, Lady. I mean can you blame her?
It's not clear which of the two Downton Abbey Ladies Grantham Hannah was giving the nod to. But does it really matter? It's hilarious either way.
Let's assume it was the very prim elder Lady Grantham, Violet Crawley, Dowager Countess of Grantham. Really not a lot of similarities there. Lady G. of Arlington apparently loves everyone she meets. Lady Grantham of Downton Abbey, not so much. Arlington's Lady loves to roll in the mud. It's truly impossible to imagine the two-legged Lady Grantham in a joyful mudroll.
Ok, so they don't have a lot in common. But where it matters, they are perfectly aligned, sharing a fierce loyalty to family. And to Hannah, that means a lot.
Hannah got Lady about a year and a half before the Covid, so she knows the joy of returning home after a long day at work to the unconditional love of a canine. And that warm feeling of a dog's love has only intensified in the last year. Lady tracks Hannah's every move; watching her when she is still and following as she goes from room to room. And that's not just for the fabulous homemade food Hannah prepares for her.
They have some similar interests, sharing a love of swimming and long hikes, followed by equally long naps. And Lady delights in being able to find and return every tennis ball thrown. By all accounts, Lady is truly a wonderful and loyal canine companion.
You and your dog might catch sight of the two enjoying the beautiful Spring weather around Colonial Village. And I hope you do, as I hear Lady is looking for some fun neighborhood playmates. Is there a four-legged Isobel Crawley out there?
Interested in Adopting?
If you are interested in adding a cat, dog or small animal pet to your household, and Diego isn't right for you, here are a few local rescue organizations who might be able to help you find your perfect match:
Animal Welfare League of Alexandria
Animal Welfare League of Arlington
Lost Dog and Cat Rescue Foundation
ArPets is a weekly feature for highlighting the well-loved pets of Arlington as well as animals who are available for adoption. If you or your dog, cat, iguana, bunny, rat or any other pet, has an interesting pet story to tell, send email to: joan@joanbradyphotography.com.

Joan is an award-winning Connection Newspapers columnist and local photographer specializing in pets, children and families and contemporary business portraits.