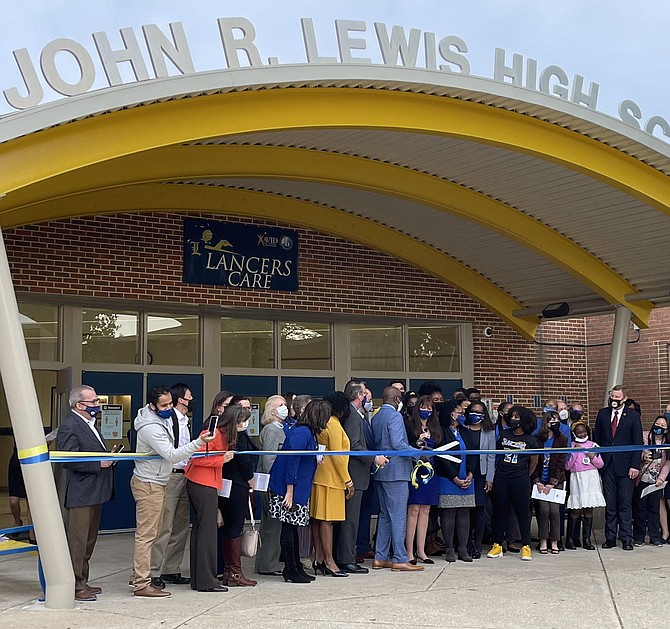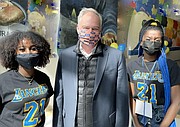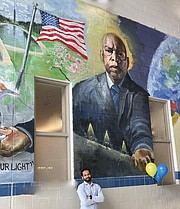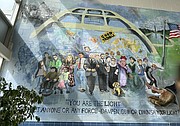 Students and staff, of the now named John R. Lewis High School, celebrated the school renaming and dedicated themselves to aspiring to the life model of "becoming John R. Lewis" during the April 23 rededication ceremony held in the Springfield school's auditorium. Students who had advocated for the school's new identity took a lead role on stage. Other student volunteers aided Principal Alfonso Smith and his staff, presenting a well-choreographed and inspiring program, on and off stage. The ceremony included remarks from Schools Superintendent Dr. Scott Brabrand, Board of Supervisors Chairman Jeff McKay, Supervisor Rodney Lusk, members of the School Board, and remembrances of Representative Lewis by three sitting Congressmen.
Last year, after long and extensive advocacy efforts, and inspired by the national reckoning on racial justice, ten students in the predominantly minority member school addressed a county school board meeting seeking a school name more reflective of its diverse population than the name of confederate general Robert E. Lee. About a hundred people spoke on the issue in a contentious discussion. Ultimately the Board voted unanimously to change the name in July 2020. Following the death of the respected Congressman John R. Lewis on July 17, 2020, the action received positive national attention.
Two of the students who were intricately involved in the successful name change campaign, seniors Kimberly Boateng and Kadija Ismail, spoke during the rededication ceremony. Boateng remembered the perseverance required to achieve the name change. She had penned a widely distributed open letter to the school board lamenting name identification of "a large minority school named after a war general that fought on the side rooted in white supremacy, racism, and bigotry." She plans to continue as an advocate for civil rights as she attends Columbia University to study health and education this Fall. Her advocacy partner, Ismail, will attend Stanford to study computer science, with consideration of later civil and human rights study for a legal career. Students Charles Childers, Andrea-Grace Mukuna, Rawan Hashim, Amanda Hurst, and Luna Alazar also spoke of "becoming John R. Lewis" during the ceremony.
Senator Tim Kaine, and Representatives Don Beyer and Gerry Connolly shared personal reflections of their work alongside John Lewis in the Congress noting the respect in which he was held. Lewis served 17 terms in the House as a Representative of Georgia's fifth District. He was well known for his oratory and peaceful nature and for his admonition to "get into good trouble," an organizer of the 1963 March on Washington, and leader of the Bloody Sunday march across Edmund Pettus Bridge where peaceful demonstrators were subjected to police brutality. House Speaker Nancy Pelosi remembered Lewis as the "conscience of the House'' upon his death in July.
School Board Member-at-large, Karen Keys-Gamarra, who introduced the name change proposal to the Board last year, remembered Lewis, "He was a man of faith who not only prayed on bridges, but he became a bridge to the very hope that we all cherish."