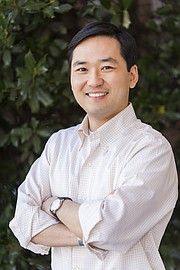 Because of his job and seniority level in the federal government, Fairfax City Councilmember Sang Yi is professionally prohibited from taking a salary for his Council services. So each year, he donates it to worthy organizations.
For FY 21, he's giving $9,000 of his $12,000 stipend to SafeSpot Children's Advocacy Center of Fairfax and $3,000 to Adaptive Fitness Legion (AFL). Both organizations are nonprofits in Fairfax City.
"SafeSpot helps sexually abused children," said Yi. "And hopefully, we can break that cycle of abuse by providing them with the resources they need [to help the victims]. Most often, they get referrals from schools. I recently took a tour of the facility, and they're doing really important work."
AFL provides $1,500 scholarships to its affiliated gym, DPI Fitness, geared toward the physically disabled. "A few years ago, a friend of mine gave birth and, afterwards, lost the ability to walk," said Yi. "Then, encouraged by her doctors, she found this gym with adaptive fitness trainers and equipment – such as treadmills for people in wheelchairs – and now, she's starting to walk again. It's amazing."
HIS SALARY DONATION came before the City Council for approval, last Tuesday, April 20. And Yi told his colleagues, "I'm so proud of these organizations and I'm pleased that they're both in the City." Before Council voted, though, representatives of both nonprofits called in to the virtual meeting to explain what they do.
SafeSpot Managing Director Heather O'Malley said the money would go directly to children who've experienced the tragedy of sexual or severe physical abuse. "One in 10 children will experience abuse before age 18," she said. "Right here in our backyard, the child-abuse hotline for Fairfax City and County received over 7,000 reported allegations of child abuse last year."
O'Malley said the survivors suffer long-term effects and are "more likely to perpetuate abuse, themselves, if not treated and supported. SafeSpot plays a pivotal role in the investigation and prosecution of child abuse – and in the long-term healing of children and families impacted by these tragedies."
She said her organization works with various agencies, including Fairfax City police, to accomplish its mission via a public/private partnership. "We provide a safe, friendly location where children can tell their stories and feel heard and supported," she explained. "We also provide crisis counseling, support and community referrals to the non-offending family members and caregivers so they can offer the best support to the child."
In addition, said O'Malley, "We offer trauma-focused, mental-health therapy to the abuse survivor so they can process their experience and begin the journey to healing. And we thank Councilman Yi and his colleagues for their support of child-abuse victims and their families."
Next, AFL President Joanna Bonilla discussed her organization, saying its goal is to empower people of all abilities through adaptive fitness and training. "We help them continue their physical progress after their insurance [coverage for physical rehabilitation] runs out. With the donated money, we'll be able to give scholarships to two people."
FAIRFAX RESIDENT Devon Palermo, AFL's founder, also addressed the Council. "We provide an adaptive-fitness gym for people who are either still attending [physical] therapy or who have been discharged [from it] and want to continue staying active with our teachers experienced in rehabilitation," he said.
"This gym has lots of medical fitness equipment designed specifically for quadriplegic or paraplegic individuals," he continued. "We work with a variety of diagnoses, from stroke survivors to people with cerebral palsy or spina bifida. But it's all done with the common goal of helping them stay active and maintain their health and wellness, as well as be productive members of their community."
Palermo said many of them still work full time and participate in recreational activities. "This gym gives them a place to better themselves, continue giving back to the community and keep moving forward with their own, functional abilities," he added. "It gives them a better chance at living their best life possible. Thank you, all – and know that the funds will be put to good use in awarding scholarships. This will go a long way in helping a lot of individuals."
Then, after discussing this matter, the Council members approved it unanimously.