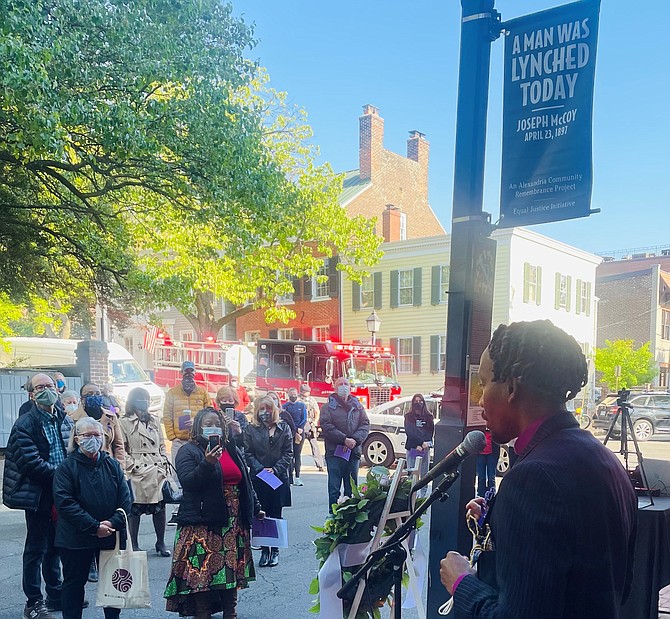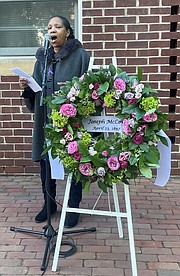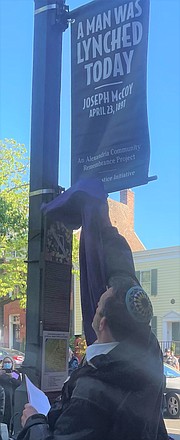 It was April 23, 1897, and the front page of newspapers across the region carried the news of the latest lynching in the area – the slaying of 18-year-old Joseph McCoy, who had been accused of assaulting the 9-year-old daughter of his employer.
An angry crowd had breached the police station jail, located at the site of today's City Hall, and dragged McCoy out of the station house to the intersection of Cameron and Lee streets. It was there that they put a rope around his neck.
"Hanged by a mob," read the headline in the Alexandria Gazette. "The righteous indignation of old Alexandria was aroused last night ... and as a result Joseph McCoy, a negro ravisher, was strung up to a lamp post, bullets sent into his body, his head split open with an axe and other indignities heaped upon his quivering remains."
McCoy's death was one of two documented lynchings in Alexandria, out of 11 that occurred in Northern Virginia, and among the 100 documented lynchings that occurred in the Commonwealth between 1882 and 1968.
Though hundreds of Alexandria residents witnessed the event, no one was ever charged in McCoy's murder.
On April 23, 124 years later, the city unveiled a remembrance marker at the site of McCoy's death as part of the Alexandria Equal Justice Institute Community Remembrance Project.
As part of the project, City Hall, Carlyle House, and the George Washington Masonic Memorial were illuminated in purple, the color of mourning, throughout the weekend in a show of belated accountability, reconciliation and honor for McCoy.
The marker reads in part: "Virginia Governor Charles O'Ferrall launched an investigation into the lynching. He laid blame on Alexandria Mayor Luther Thompson for failing to respond to repeated attacks despite knowing the mob intended to lynch McCoy. No officials or law enforcement officers were held accountable and no members of the white mob were ever arrested for McCoy's murder. Several Black men, however, were arrested based on rumors of retaliation."
Participants in the April 23 ceremony included Mayor Justin Wilson, Police Chief Michael Brown, Alexandria Poet Laurent KaNikki Jakarta, Rev. Professor Quandricos B. Driskell of Beulah Baptist Church and Beth El Hebrew Congregation Rabbi David Spinrad. Soloist Tanya Wilkins performed at the event.
To learn more about Joseph McCoy or to read the full Alexandria Gazette account of the events of April 23, 1897, visit the In Memoriam page at https://www.alexandriava.gov/Historic.