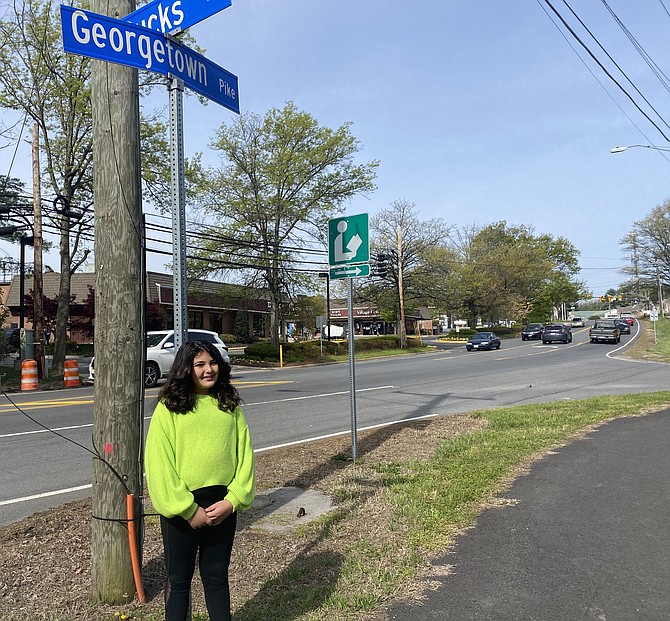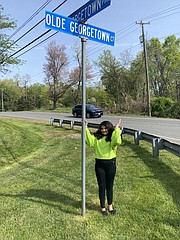 Ponteha Aryavand, 10, of Great Falls introduced an online community petition in mid-April for a continuous yet undetermined length of sidewalk along Georgetown Pike in Great Falls.  Her campaign seeks to identify interest and raise awareness for the safety, health, and environmental benefits sidewalks can offer in the locality.  Ponteha's mother, Melody Akhavan said that her daughter plans to share the results of her petition with Supervisor John W. Foust (D-Dranesville District), who represents Great Falls on the Fairfax County Board of Supervisors.
According to Ponteha, pedestrians walking along the Pike, on the narrow white-line shoulder, or the adjacent uneven grassy areas are less visible to motorists and are at risk for crash involvement.  Others find the roadway a barrier and attempt to avoid the fast-moving cars by darting and running across the Pike. 
"With hills, when… [drivers] go over and under, they can't see what is under the hill until going down," Ponteha said. As for the Pike's areas with better sightlines, she said, "I would see people walking across from the side of the road and crossing while the cars were still coming."  
Ponteha said some existing sidewalks and asphalt trails along the Pike are few and far between with long gaps. That makes walking from residential neighborhoods, like hers, that feed onto the Pike to the Village Center unwelcoming. According to Akhavan, developers installed sidewalks and asphalt trails as part of their housing, renovation, and commercial development projects like those in front of the library and the historic Great Falls Grange Park & Playground.
Ponteha said since she is not allowed to walk along the Pike, she must be driven. Asked what her first destination would be if sidewalks were installed, Ponteha said, "I think the first place I would walk to is the [Great Falls Grange] Playground. I like the tire swing. The second place I would walk to would definitely be the library."
The ultimate goal of the young advocate is to pave the way to viable pedestrian and possibly bicycling mobility for citizens living in the low-density, residential land-use area along the Pike.
Ponteha's petition on AVAAZ.org, To Put Sidewalks on Georgetown Pike, reads:  "When you see people walking on Georgetown Pike, we see that they are not safe! There is a chance that a car could hit them! This is why a sidewalk would be great. Exercise walking has shown to reduce risk of heart disease. We would not only be improving the health of the environment but also the health of Great Falls residents," 
Ponteha acknowledged key challenges might be acquiring the land for the sidewalks from property owners and funding to support project needs. As for now, her dream for a sidewalk remains a choreographed step-by-step process.  She researched the problem, found a solution, created a petition, and posted it on social media apps like Next Door and Facebook.
Ponteha reached her first goal of 50 signatures, blew past her second goal of 100 signatures, and is steadily moving toward her third goal of 200 signatures. On May 2, the petition website, To Put Sidewalks on Georgetown Pike, reported 183 have signed. Officially called State Route 193, Georgetown Pike begins off State Route 7, passes through Great Falls, and meets Interstate 495 in McLean.  It is listed on the National Register of Historic Places.
Ponteha said that she is in it for the long haul, at least "three years," and as long as there is forward progress toward the goal.  [Otherwise], "I would start to feel discouraged, she said.
In mid-October 2019, Supervisor John Foust and other Fairfax County officials attended a ribbon-cutting ceremony for the then newly completed segment of 1,400 linear feet of new asphalt trail, part of the Georgetown Pike Trail 4.2-mile-long pedestrian trail that allows passers-by to travel from River Bend Road westward to Seneca Road in Great Falls. According to the County's Project News and Update, "The new segment extends from Falls Chase Court, where it connects to existing trail, to Seneca Road. This new trail is part of a larger effort to improve pedestrian access throughout Great Falls and to connect the broader community to the Village Centre." The Fairfax County Department of Transportation (FCDOT) held its first community meeting concerning the Georgetown Pike Trail Phase IV project on Wednesday, October 4, 2017.