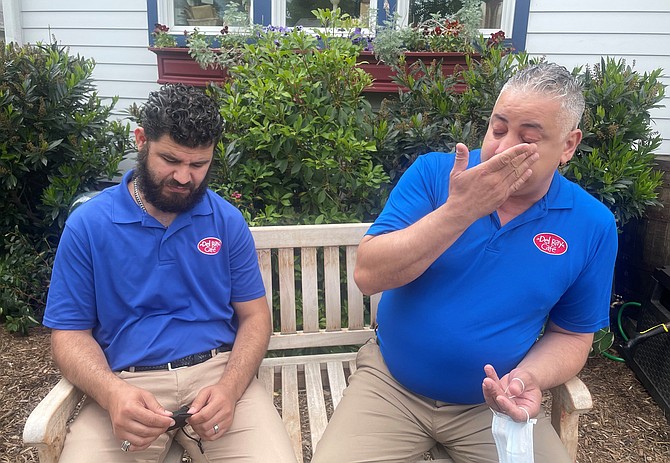 Muslims around the world began marking the end of Ramadan last week with the arrival of the festival of Eid al-Fitr, a tradition that dates back more than 1,400 years.
"Eid al-Fitr is a special holiday and important part of the month of Ramadan," said Nadir Elijji, an employee at Alexandria's Del Ray Café. "It is a time to share food and happiness with family and neighbors."
Ramadan, celebrated this year from April 12 through May 12, is the most sacred month of the year in Islamic culture. Muslims observe the month of Ramadan to mark that Allah, or God, gave the first chapters of the Quran to the Prophet Muhammad. During Ramadan, Muslims fast, abstain from pleasures and pray to become closer to God.
"More than 1.8 billion Muslims around the world wait all year to observe this holy month," Elijji added. "We fast from sunrise to sunset with no eating or drinking or saying of profanities. This is a time to reach out to God, reach out to the needy and reach out to each other. It is a challenge to us as Muslims to set an example to the whole world."
Fasting during Ramadan is one of the five pillars of Islam, along with the Muslim declaration of faith, daily prayer, charity, and performing the hajj pilgrimage in Mecca. The fast is intended to bring one closer to God and to focus on the suffering of those less fortunate.
"When the month of Ramadan comes you try to teach your kids the right things," said Del Ray Café manager Abdel Laassili, who is the father of young children. "You try to teach them from a young age what Ramadan looks like and what it means. You teach them about discipline, patience, and to always help the poor and donate to charities."
Muslims traditionally break their fast with a sip of water and some dates at sunset. After sunset prayers, a large feast, iftar. is shared with family and friends.
"This is a chance to worship God, ask for forgiveness, and seek to have our prayers answered" said Elijji. "Ramadan is a month of peace, a month of celebration, a month of getting close to God. A lot of families around the world are suffering. It is my prayer and wish for everyone to be safe and healthy."