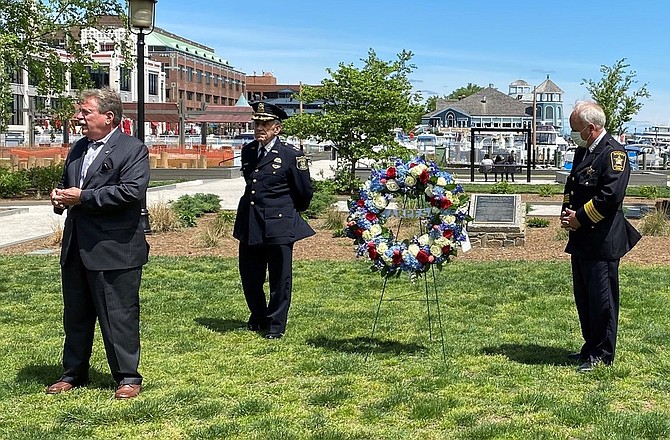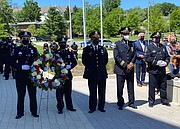 A somber crowd gathered at Alexandria Police Headquarters May 10 for a wreath laying ceremony to remember the fallen officers who have lost their lives in the line of duty.
Held at the city's Fallen Officers Memorial, the ceremony was sponsored by the Alexandria Police Foundation as part of National Police Week, which runs May 9-15.
"The men and women of this police department are incredibly dedicated to what they do as a profession that they've chosen," said Police Chief Michael Brown. "They are here for this city. They are here for the residents, just like their predecessors."
The ceremony featured a presentation of colors by the Alexandria Police Honor Guard, the placing of the wreath and the end of watch roll call of the 18 officers whose names are inscribed at the memorial. Several family members and descendants of the fallen officers were in attendance.
Retired APD Capt. Ken Howard spoke on behalf of the Alexandria Retired Police, Fire and Sheriff Association, noting that there have been more than 100 line-of-duty law enforcement deaths across the country in 2021. He urged today's officers to "ignore the negative nonsense out there in the media" regarding police.
"Be proud, be careful, and know you are supported," Howard said.
A similar ceremony was held at the Law Enforcement Memorial at Waterfront Park, with Brown being joined by Sheriff Dana Lawhorne and Assistant Chief Don Hayes as a wreath was placed at the memorial inscribed with 16 names dating back to the death of Constable Elijah Chenault in 1823.
The law enforcement officers remembered at APD headquarters include: Constable Elijah Chenault (1823), Watchman Gerrard Arnold (1827), Officer Julian F. Arnold (1887), Officer George W. Crump (1893), Officer Walker W. Campbell (1919), Sergeant Elton B. Hummer (1928), Sergeant Charles R. McClary (1929), Private Whitfield Lipscombe (1930), Private August Perault Pierce (1930), Corporal Clarence J. McClary (1935), Private Robert B. Harris (1948), Private Bobby G. Padgett (1959), Deputy Inspector James Baber (1962), Private Eugene Yoakum (1964), Detective Conrad L. Birney (1972), Corporal Charles W. Hill (1989), Officer Andrew Chelchowski (1993), and Sergeant Morton M. Ford (2011).