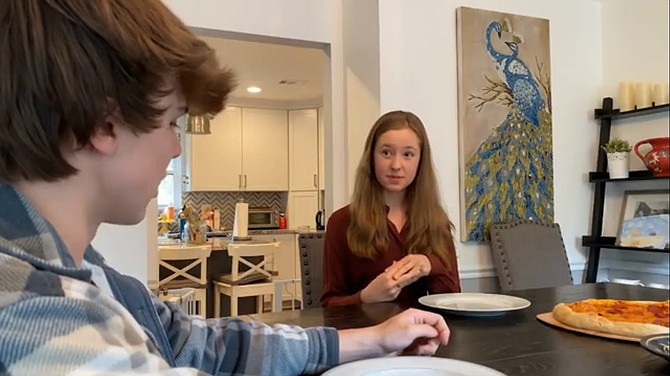 During moments of contention, people must choose their path. In high school, college, and even as an adult, we are all riddled with overwhelming pressure from ourselves and others to live up to expectations. Langley High School's earnest original production, "Real Talk," wonderfully depicts this generational plight.
Piecing together the story of one boy, Leo (Eli Roberts) who is journeying off to college and choosing his major, all while working to please his father. But the concern that Leo's father has for his future slowly manifests into unrealistic expectations and unnecessary stress. These circumstances prompt Leo to seek out guidance from a therapist (Keya Umesh.) Their conversations serve as a guiding light throughout the play and ultimately provide Leo with much-needed reassurance, recognizing that he is certainly not alone in his struggle to succeed.
The creative team at Langley HS was responsible for writing and directing this ambitious production. These efforts were spearheaded by Gunnar Peacock and Conor Farah, who used their own experiences to cultivate this poignant narrative. In addition to their leadership on the project, both Peacock and Farah performed in the roles of Mr. Halifax and Mel, respectively, managing to captivate audiences from both on and off-screen.
Eli Roberts did a brilliant job in the role of Leo, using his mastery of body language and a quivering voice to establish the mental toll these people have taken on his mental health. That nervous energy beautifully juxtaposed the calming nature of his therapist. Keya Umesh created an environment of peace and introspection, even though she wasn't in the same room as Roberts. Unlike the other actors who performed their scenes in person, Umesh and Roberts were tasked with developing a relationship on screen. However, their talent and dedication to the craft aided them in constructing an unparalleled performance, building off one another's facial movements and laying the groundwork for other actors to utilize during their own performances later.
Other notable performances were Connor Farah as Mel and Gunnar Peacock as Mr. Halifax. Farah was hilarious in the role of Mel, serving as comedic relief to the show's more dramatic moments. Mr. Halifax acted as a parallel to Leo, as they both dealt with paternal pressure at a young age. However, Mr. Halifax was able to rise above and follow his own passions of fashion design. This determination inspires Leo in the final scene to follow his dreams, and not simply choose a major because his father told him to.
"Real Talk" is an inspiring tale about passion, reminding audiences that our parent's path is not necessarily our own. Through conversations with mentors, friends, and therapists, we can begin traveling down our own path. Always doing what is best for us, and allowing the other pieces to fall into place.