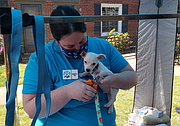 On Saturday, May 15, the Animal Welfare League of Alexandria (AWLA) hosted its first, physically distant Pets & People Community Wellness Event at the Ruby Tucker Family Center. Following the One Health approach of community care, this event was created to assist not only animals but also people across the City of Alexandria. The event, which ran from 10 a.m. to noon, provided goods and services to dozens of area families.
A majority of the attendees came to the event for assistance with pets, and nearly 90 vaccinations were given to combat rabies, parvovirus and distemper, dangerous viruses that could cause discomfort and even death in animals. Twenty-four dogs and cats also received basic grooming and nail trimming by local business Pawsh Dog Wash. Behavioral advice, pet food and other supplies were available for all attendees.
But many of those in attendance also received goods and services for the humans in their household. ALIVE! provided 125 grocery bags of shelf-stable pantry items, and the Alexandria Health Department scheduled COVID vaccination appointments with those who have not yet received their vaccinations. Representatives of the Department of Community and Housing Services; Senior Services; Buddie Ford Nature Center; InspireLit; the Domestic Violence Intervention Program and more were also on hand to provide support and information to those assembled.
"Alexandria has a strong support network for our residents," said Director of Community Programs Joanna Fortin. "When we were looking for ways to provide assistance to pet owners, we knew we wanted to work with these human support organizations to have the biggest impact."
Pre-registration was not required, and while the AWLA worked to make sure the event observed best health practices, including requiring masks and physical distancing, they welcomed a record number of families, greater than any of the previous Pet Care Fairs they had offered at the Ruby Tucker Family Center. While many attendees were there for animal-related services, some came solely for the human services, which was part of the goal for this event.
"Some people may not have come out just to get supplies just for themselves," said Jairo Tobar, AWLA One Health Coordinator. "By offering the opportunity to get assistance for their pets as well as themselves, we hope we reached — and helped — even more members of our community." 
The AWLA plans to host another Community Wellness Event later this year in the Chirilagua area of Alexandria and additional events throughout the community in the coming years.
"By helping pet owners with a variety of health-related services, we hope we were able to offer some type of assistance to everyone who attended," said AWLA Executive Director Stella Hanly. "This weekend's event showed that we can do more when we work together."
Support for this event was partially provided by a grant from PetSmart Charities.
About the Animal Welfare League of Alexandria
The Animal Welfare League of Alexandria is dedicated to helping animals not only at the Vola Lawson Animal Shelter (Alexandria's only open-access animal shelter) but also across the community. In 2020, they expanded their outreach programs to offer more than 40,000 pounds of donated pet supplies across the region, as well as finding more ways to reach and assist pet owners through drive-up vaccination and microchip clinics, spay and neuter assistance, grooming and veterinary aid and more.  https://alexandriaanimals.org/Community-Services/.