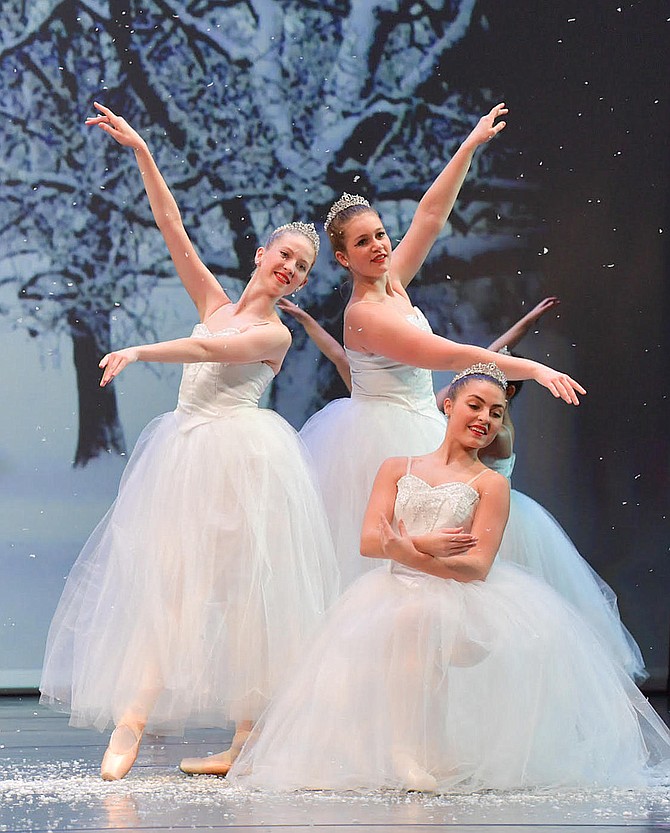 Featuring a cast of 53, the Fairfax Ballet Company presents the iconic "Nutcracker," Saturday-Sunday, Nov. 27-28, at 4 p.m., at Fairfax High. Joining its dancers are students from the Russell School of Ballet, plus special guest artists, to bring this holiday dream to life. 
"Performing Thanksgiving weekend is a great start to the holidays and getting into the holiday spirit," said Andrea Cook, Fairfax Ballet's artistic director and choreographer. "It's a family-friendly production with attention paid to small, technical details, as well as to the costumes and set. And astute audience members will notice little hints of act two throughout the party scene in act one."
"We're excited to see the growth our dancers have shown during rehearsal, as well as our younger dancers stepping into more advanced roles," she continued. "And this year, we've redone our battle scene between the mice and soldiers and added more dancers as icicles in the 'Waltz of the Snowflakes.'"
In addition, the Land of the Sweets is now more diverse, inclusive and culturally sensitive. "We highlight the sweets, instead of the lands they've traditionally represented," said Cook. "We've renamed the sweets and removed some of previous 'Nutcrackers' cultural stereotypes."
Guest professional artists from Ballet Des Moines, husband and wife Logan and Amelia Hillman, will dance the roles of the Cavalier and the Sugar Plum Fairy. Logan performed with Fairfax Ballet as a young dancer so Cook's "thrilled that he's able to return as a principal dancer in this production." 
George Mason University senior Carlos Martinez will portray both the Nutcracker Prince and the Soldier Doll.
As the Cavalier, Logan Hillman is the Sugar Plum Fairy's dance partner. "He's princely and elegant," said Hillman. "She has turns, big jumps and lifts, and I'm there to do the magic and help her look weightless. I'll enhance her moves so, for example, she can do more pirouettes with my help than on her own."
He said their dance at the end of the show "is a spectacle and should inspire the audience. She's in a beautiful tutu and I'm in a matching jacket and white tights. This dance is what everything else in the show has been building to, and that's why ballet schools bring in professional dancers to perform these two roles."
Dancing since age 10, this is Hillman's ninth year as a professional. "Ballet can be difficult, so it's challenging," he said. "It's easy to learn, but impossible to master. Originally, I was excited dancing onstage. But now, it's more important to me how the audience feels because of my performance.
"I love dancing this part because much of what I do is modern, contemporary dance. But this is classical ballet, and I get to show off my training." He said this production is visually appealing and is "the real 'Nutcracker' experience in all its elements. It's an annual tradition, and audiences will see new dancers, long-time professionals and maybe even future professionals."
The Sugar Plum Fairy is Clara's inspiration and the last person Clara visits on her journey. "In ballet, it's an iconic role – someone young ballerinas look up to," said Amelia Hillman, who'll dance this part. "She personifies such glamour, beauty and grace, and I try to bring that to the role. It's special because ballerinas do 'Nutcracker' their whole lives, and it's one of the first productions they see. And they make their way through the ranks of the roles over their career."
Now 27, Amelia Hillman has danced since age 9 and never tires of this show. "The music's beautiful; and every time we're onstage, there are new kids in the show and new people in the audience," she said. "And I love bringing that magic to the community. It's a pillar of the holiday; and for people seeing ballet for the first time, we want it to be a really positive experience."
She said dancers continue choosing their craft. "It's a part of myself I don't think I could be without," said Hillman. "It's a unique outlet for expression where I can continually grow. There are always new things to explore, and I love sharing what I have with the audience. Art enriches our lives; and when you leave the 'Nutcracker,' you feel lighthearted and uplifted."
Portraying Clara is Fairfax Ballet Company's Heather Qian. "Clara's 12 – young, innocent and a bit naïve," said Qian. "She's imaginative and dreams the whole story. I'm super excited to play her – it was my dream role when I was younger, so it's a dream come true. The older girls who did it were so good, and I wanted to be just like them."
Her favorite number is "Arabian" because "the choreography is really cool – it's mesmerizing to watch." Qian said the audience will especially enjoy this show's dancing and see that "everybody's worked so hard and there are awesome people performing."
Fairfax Ballet's Nicole Shortle is the Snow Queen. "She guides Clara through the Land of Snow, and it's as if everyone is dancing inside a snow globe," said Shortle. "I like the whole corps of dancers being together onstage. And I love the music because everything connects, even though some parts are slow, and others are loud and exciting. 'The 'Waltz of the Snowflakes' is one of my favorite parts of the show because it's so pretty. We all wear tiaras and snow is falling down." 
Shortle said the show's seasonal aspect will appeal to audiences. "We all look forward to it every year and put forth our best efforts," she said. "The costumes are gorgeous, and the dancers plus the backstage crew make the magic happen. And this is our first, live show since the pandemic, so we're really excited." 
For ticket information, go to 
www.fairfaxballet.org
.
To Go
Purchase tickets at https://fairfaxnutcracker2021.bpt.me/. Certain group discounts are available in advance; for more information, email events@fairfaxballet.com or call 703-665-9427. This show will also be performed, Dec. 18-19, with the Fairfax Symphony, at GMU's Center for the Arts. For ticket information, go to www.fairfaxballet.org.