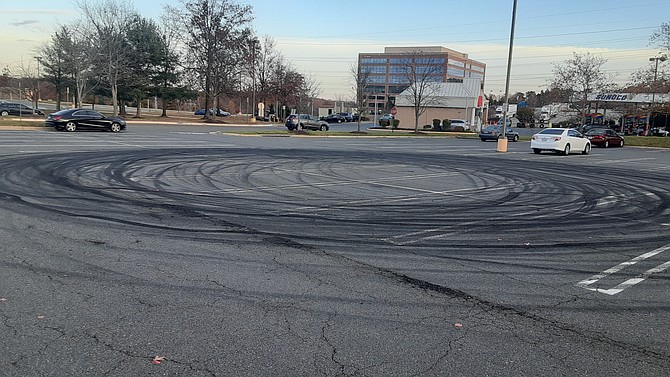 The parking lot in Kingstowne became a meeting place for street racers in the overnight hours of Saturday, Nov. 13, and the reckless swagger and loud mufflers rang out before the police to put a lid on it all.
There is a ring of tire marks in one section of the lot where the donuts took place. 
Bill, shopping cart attendant at Giant saw all the action while collecting carts from the lot.
"Bunch of kids doing donuts, cops were trying to chase them down," he said.
According to the police, officers were called to the area for reports of 100-200 cars driving recklessly with a large crowd gathered. Officers worked to disperse the crowds, and two minor crashes occurred. No injuries were reported. Officers are currently working through the investigation, reviewing any video and photo evidence, the FCPD said.
To the area residents, the police reports conflict with what they saw, say several people on social media. 
"We wondered about that. We saw cars with license plate details covered up," said Jeannine Deem Purdy on Facebook. 
Nicole Glynn Miller listened on a scanner that seemed to indicate more than just a traffic incident. "A cop told the entire world listening to the police scanner that they had fireworks thrown at them and beer bottles," she wrote. There were no arrests according to police.
There were questions flying around about tickets given out, police officers being outnumbered and the stories changing up by officials, or developing. 
Supervisor Rodney Lusk (D-Lee) issued a "Full Statement on the Kingstowne Street Race Disturbance," as he called it.
"I am aware of the event that occurred in Kingstowne last Saturday where a crowd of over a hundred people were engaging in an unsafe car meet-up. As Chair of the Public Safety Committee, I take instances like what occurred Saturday extremely seriously. I am pleased with the immediate response of the Fairfax County Police Department, and I commend them on their ability to disperse the crowd without further escalation or injuries. As the investigation continues, I'm personally committed to advocating for any resources that FCPD, and specifically the Franconia Station, require to prevent any such future disturbances," it said.
Lusk also issued a statement from Captain James Krause, Commander of the Franconia District Station:
"We will continue to work with our business owners as well as other County partners to prevent and deter similar incidents from happening in the future. Our officers monitor social media platforms for events throughout the County. Commanders at each district station allocate resources to address any concerns that may be posed to our community." They urged anyone that sees dangerous driving behavior in progress to call 911 or the non-emergency number at 703-691-2131.
Reports of using cars and motorcycles recklessly are coming in from other areas too. According to posts on a gossip website, street racers have used Cinder Bed Road in the Newington area, or they would "meet at the shell in Burke and run on 123." 
In July, there was an intersection blockage at Fourth and Tangey streets S.E. in Washington, D.C., where the drivers did donuts in the intersection, blocking traffic. There is a film of this on YouTube. "These people are just testing the limits of what they can get away with," said one comment.