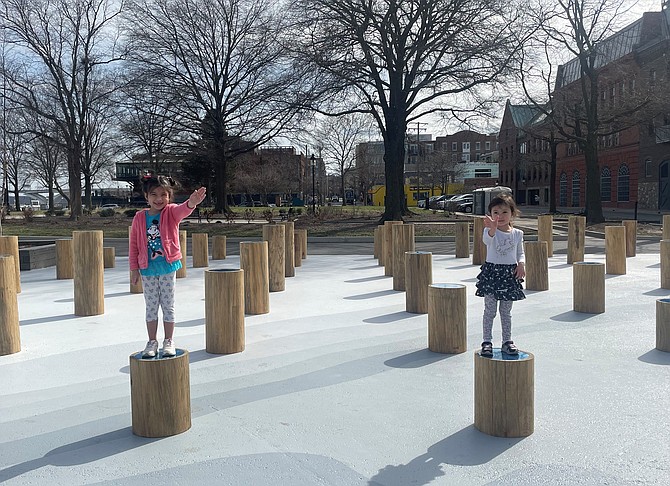 The arrival of fall one year ago was less than celebratory as many of the area's signature events were canceled due to the COVID-19 pandemic. But as strides are made in understanding and combating the virus, a sense of normalcy is cautiously returning to Alexandria.
Two events in particular will return this year, including the unofficial but overwhelmingly popular trick-or-treating on South Lee Street in Old Town.
"Before COVID struck, Lee Street had quite the Halloween trick or treating going on," said Yvonne Callahan, vice president of the Old Town Civic Association. "It was all quite fun, and especially in the last few years, with more police presence and barricades to make the streets safer to traverse, it has been most successful."
The residents of South Lee Street are known for their over-the-top decorations but opted last year to cancel the Halloween street celebration. This year, they are enthusiastically ready to revive the tradition.
"Last year, we had nothing of course," Callahan said. "Now we are eager for the tradition to be revived. We need more normalcy and this is one way to bring it back for one evening."
In addition to the South Lee Street trick-or-treating on Halloween night, the popular Del Ray Halloween Parade will return Oct. 24 after a year's hiatus.
Taking place on Mount Vernon Avenue, the parade will feature children, pets and strollers in costumes with awards given for Best Pet Costume, Best Decorated Business, Best Decorated Home and Best Decorated Stroller.
Recently named one of the Top 3 Best Small Cities in the U.S. by Conde Nast Traveler Readers' Choice Awards, Alexandria showcases a line up of both historic and contemporary sights and sounds to awaken the autumn season. From leaf peeping to ghost tours and doggie trick-or-treating, fall festivities abound.
Immanuel Church-on-the-Hill welcomed the season with its annual Pumpkin Patch. The event raises funds for local charities and runs through Oct. 31.
At George Washington's Mount Vernon, two special fall events continue with the Fall Wine Festival Sunset Tour Oct. 8-10 and the Fall Harvest Festival Oct. 23-24. Mount Vernon will also host trick-or-treating on Oct. 30. www.mountvernon.org
While the city is known for its historic homes and museums, a lesser-known claim-to-fame is that Alexandria is home to some of the biggest trees in the country including more than 100 champion or notable trees. With foliage expected to peak in mid-October, leaf peeping in Alexandria can be seen close to home at Fort Ward Park, Jones Point and Alexandria National Cemetery, home to the country's largest dwarf hackberry tree.
The Old Town Business Association is again sponsoring the Old Town Oyster Festival Oct. 16-24 in partnership with the Oyster Recovery Foundation. The Oyster Shucking Competition will take place Oct. 16 to kick off  the festivities at  Vola's Airstream Patio.
Also along the waterfront is the Tall Ship Providence. Tours as well as cruises, including for private events, are available. A special craft beer sunset cruise in partnership with Port City Brewing will take place Oct. 16 www.tallshipprovidence.org
Ghost tours are popular year-round but October is the most popular time of year to learn local lore surrounding Alexandria's past. In addition to the Ghosts & Graveyard tour by Colonial Tours, a Spirits of Ivy Hill Ghost Tour will be held at Ivy Hill Cemetery.
The cemetery will also be the site of the Guillotine Theatre presentation of "Poe outside the Vault." Actors from Guillotine Theatre will read from the works of Edgar Allan Poe on Oct. 28 and 30. RSVP to info@IHCHPS.org
The Little Theatre of Alexandria continues its schedule of live theatre performances with "Wait Until Dark." Set against the socially turbulent 1960s, the show follows the story of Suzy, a blind woman who becomes embroiled with a group of con men hatching an elaborate scam.  The show runs Oct. 16-Nov. 6. www.thelittletheatre.com
October is Breast Cancer Awareness month and the Walk to Bust Cancer returns Oct. 24 at Fort Hunt Park. A virtual option is also available and proceeds help fund diagnostics and treatment for uninsured and underinsured patients. www.walktobustcancer.org
For more information on fall festivals and city events, visit www. VisitAlexandriaVA.com.
"We need more normalcy, and this is one way to bring it back for one evening." — Yvonne Callahan on Halloween night on S. Lee Street