The Lorton Volunteer Fire Department is getting an expanded fire house with modern accommodations in a $14,790,000 makeover to bring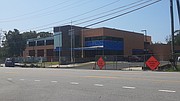 firefighting capabilities in the eastern Lorton area up to meet the needs of a growing population.
The new two-story station is an approximate 23,000 square-foot facility, with four drive through apparatus bays to accommodate their equipment and a larger staff to support the Fire and Rescue operations, along with a volunteer firefighters space. The facility provides expanded living and support spaces, along with a training tower.
To accommodate the construction and renovation activities, the crew moved out of their former quarters in 2018 into temporary accommodations and a temporary station on the same 3.3-acre site. The project is scheduled to be completed soon so the crew can move back into their permanent spaces. The project is scheduled to receive LEED Silver Certification, said Sharon North, communications representative at the Department of Public Works and Environmental Services.
This improved station in eastern Lorton will soon be providing public service in the area alongside the new South County police station and animal services shelter which is under construction further west on Lorton Road, between Hooes and Workhouse Roads. County officials broke ground on that $30 million dual-use facility last May. It includes 34,000 square feet for police, 23,000 square feet for animal services, and 20,000 square feet of outdoor space for use by animals, a fuel island, and parking. The facility, a two year project, is scheduled for completion in spring 2023.