The smell of grilled bratwurst floats down Culpeper Street outside Heidelberg Pastry Shoppe on Saturday, Sept. 11. Wolfgang Bücher and two of his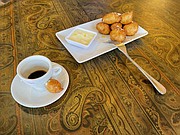 employees are preparing German wursts—with or without sauerkraut, relish or mustard and maybe some potato salad.

David Lovins sits on the corner of Lee Highway playing patriotic tunes on the accordion to entertain the long line of customers.
"I started playing as a child against my will. It wasn't a very popular instrument in Salem where I grew up. I wanted to play the guitar." Lovins says he stopped playing the accordion for 30 years and then his wife got him back into it. "I've been playing for the last 20 years. "I was surprised I could still play. It's like reflexive memory, and it's such a joy."
— Shirley Ruhe