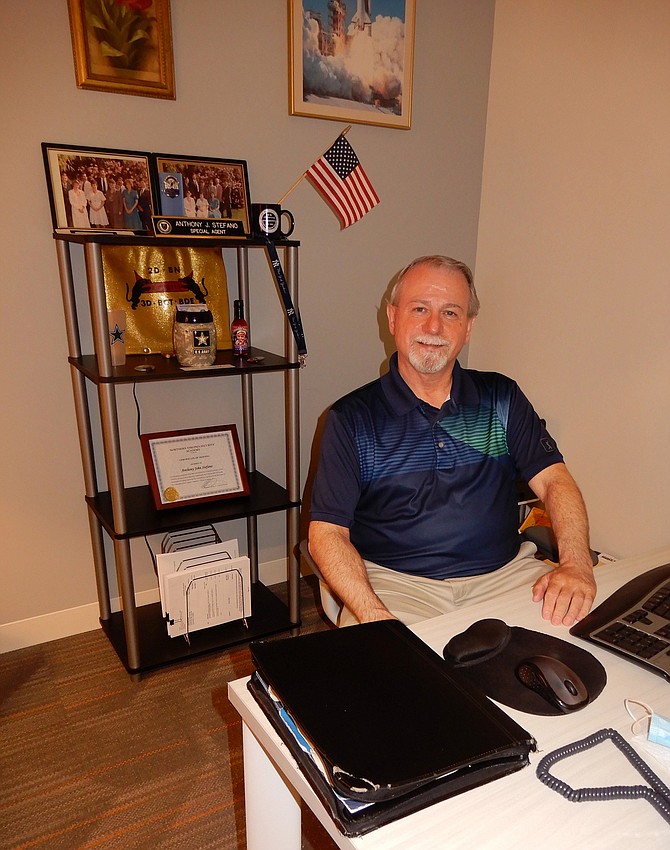 Office Evolution actually opened for business in Fairfax City in November 2020; but due to the pandemic, it wasn't able to hold its official ribbon-cutting until recently. But when it did, not even the rainy day could dampen anyone's enthusiasm.
"We've been waiting for this day for a long time, and we're happy to have you all here," said the Fairfax business's owner, Fred Franke, to those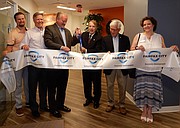 attending the indoor ceremony. Thanking the City's Economic Development Authority (EDA) for its help reaching this point, he said, "We're focused on providing the support needed by small-business owners and entrepreneurs – the dreamers, the risk-takers and the doers."
Office Evolution is at 10304 Eaton Place, Suite 100, in WillowWood Plaza. The 10,138-square-foot center offers local, small- to medium-sized businesses owners – and remote workers of larger corporations – with access to 41, fully furnished, private offices; three conference rooms; a podcast room, plus shared workspace areas. There's also Wi-Fi and ethernet, as well as free above- and below-ground parking.

This is Office Evolution's third Northern Virginia location; the others are in Tysons and Herndon. And with the pandemic changing where people do their jobs, Office Evolution aims to provide a safe and cost-effective work environment.
"We have 18 virtual members who use the address and drop-in space, 11 private-office members and more than 25 who just use the business address," said John Franke, Fred's son and the manager of the new Fairfax center. "We're happy with them, but always hope to get more referrals and members. We can accommodate 100-150."
Office Evolution founder and CEO Mark Hemmeter called small business "the heartbeat of America – it just keeps going." And, he told the attendees, "It's heartwarming to see you all here today."
"Today's ceremony highlights and is a reminder of Office Evolution's dedication to providing flexible, close-to-home, coworking, office space," said Danette Nguyen, the City's assistant economic development director. "We applaud their commitment to offering workspace where entrepreneurs can network, collaborate, innovate and thrive. It's with great pride that we stand here to celebrate this milestone with you and welcome Office Evolution to Fairfax City's business community."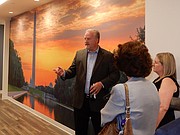 Agreeing, Jennifer Rose, executive director of the Central Fairfax Chamber of Commerce, said, "It's exciting and heartwarming to see businesses opening again. The space is beautiful, and we're so happy to have you in the City of Fairfax."
Pleased, as well, was Fairfax Mayor David Meyer. "We're in a time of rapid change, and this concept is the wave of the future," he said. "People want to be near each other again. They also want high-quality, professionally designed, aesthetically pleasing space – but not in a 300,000-square-foot building on [Washington, D.C.'s] K Street."
When considering where to open Office Evolution's newest Northern Virginia business center, Fred Franke wanted something centrally located off I-66 and Route 50. And Fairfax City offered that and more.
"What attracted me to the City of Fairfax was the small-business and residential density, because our focus is on enabling small-business entrepreneurs to grow and prosper," he said. "We provide office-space solutions that are safe, affordable and flexible. And we were pleased with the growth in the City, plus the welcoming spirit that different organizations – like the EDA and Central Fairfax Chamber of Commerce – extend to small businesses."
One of the companies happily using office space at this location is ALIASS (American Legal Investigations & Support Services), which does private investigations. It's been in Fairfax City since 1996, already has three offices in Office Evolution's new building and is adding a fourth this month.
"Because of the pandemic and employees working virtually, our owner, DeVon Cunningham, decided the space we were in was no longer cost-effective," said Tony Stefano, manager of the Investigation Department. "We moved here May 1."
"I absolutely love it because it's inviting and open," he continued. "Having seen other virtual spaces, this is a much better layout, by far, and the management and ownership are welcoming. We have all the services and equipment we need – and even free coffee."
For more information, call 571-407-2001 or go to officeevolution.com/locations/fairfax.