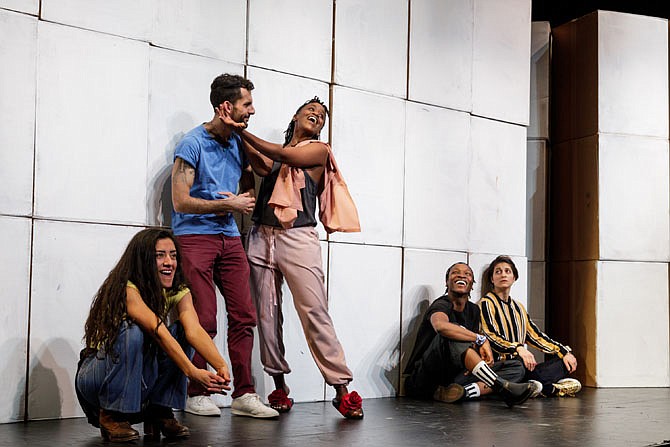 Fairfax County — "We are eagerly anticipating the return of live performances to the Center for the Arts." said Rick Davis, Dean of the George Mason University College of Visual and Performing Arts. "Our signature kickoff event, known for 15 years as 'ARTS by George!' has been reimagined this year in response to the pandemic. We're calling it 'Arts Emerging' as a way of celebrating resilience and recovery, and the role the arts have played and continue to play in our communities."
"'Arts Emerging' will be a festive, energetic, outdoor/indoor, family-friendly showcase of artistry, and a perfect way to turn the corner into a new season." added Davis. The event is on Sept. 25, 2021.
The 2021-22 season includes some artists and events that the Center for the Arts was able to reschedule after pandemic cancellations last year, including "Cartography"' an innovative and timely work about five young refugees who have set out searching for a new place to call home. It is an extraordinary multidisciplinary creation and includes an artist residency component led by co-creator Kaneza Schaal in which the artists will spend time interacting with various Fairfax communities both on and off the Mason campus.
"Cartography" creates an interactive onstage virtual storm that rises up in response to the actors' voices, and uses cell phones to depict memories. It features live sculpture creation to represent their journeys. And the audience has an active part to play. The performance will be on Saturday, Oct. 2, 2021.
With the pandemic, "We've counted our breaths. We are also in a crisis of global proportions; many people are newly understanding their connection to other parts of the world, their direct connection to the breaths of others. Theater has always lived at this intersection – a small immediate community sharing big questions about the world," said Schaal.
"And this is what "Cartography" is about, how we can gather in the theater together to remember all the journeys, recent and generations passed, that brought us here."
Mason's Center for the Art has a long history of presenting outstanding artistic experiences for the Northern Virginia community. The CFA opened to the public in October 1990 and has grown as Northern Virginia's go-to performance venue. The CFA's 2021-2021 season of "Great Performances at Mason" is no exception, presenting an incredible range of diverse artists and events.
Note: Health and safety requirements. Everyone, even those who are fully vaccinated, must wear a face covering when inside university property (buildings and vehicles). Seating will be at full capacity for indoor performances except for Family Series events. Outside fresh air supply has been increased by 50% and ventilation systems are running continuously to increase the exchange of air. Details at www.cfa.gmu.edu/plan-your-visit/what-expect
Where and When: "Arts Emerging" and "Cartography"
presented by George Mason University Center for the Arts, 4400 University Drive, Fairfax, VA. 22030.
"Arts Emerging,"Saturday, Sept. 25, 2021, 5 p.m. to 9 p.m. Tickets: $10 per person. Proceeds support student scholarships in Mason's College of Visual Performing Arts, Mason Community Arts Academy, Green Machine Ensembles, and the Great Performances at Mason season at the Center for the Arts. Sponsorship opportunities also available.
Schedule:
5 to 7:30 p.m.: Student and alumni showcases and exhibitions on and around Holton Plaza, food and drink available for purchase
8 to 9 p.m.: Main stage student and alumni performance in the Center for the Arts
"Cartography" on Saturday, Oct. 2, 2021, 7p.m. Tickets: $46, $39, $28, half-price for youth through Grade 12. Note: "Cartography" is recommended for ages 10 and older.
For information and tickets go to: www.gmu.cfa.edu or call 703-993-2787.

"Cartography" performance at 7 p.m. Saturday, October 2, 2021.