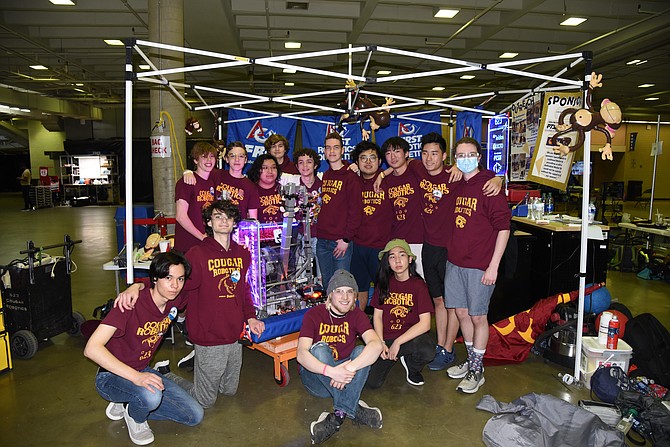 Oakton High School's Cougar Robotics Team 623 is going to battle it out at the World Championship in Houston, TX against teams from all over the world. For 21 years, Oakton High School has had the Cougar Robotics Club, which promotes STEM. The club competes in a world-wide competition called FIRST (For Inspiration and Recognition of Science and Technology). FIRST is an international youth organization that was developed to inspire students in engineering and technology fields while instilling their core tenets of gracious professionalism and cooperative competition. It combines the excitement of sport with the rigors of science and technology and has created the ultimate Sport of the Mind. Oakton High School supports three separate robotics teams within the Club. Since the Pandemic started, the Club wasn't able to build a brand new robot, lacking access to the school for many months. The international program FIRST, also altered their plans, since no one could support large-scale events. The Club was excited in late 2021, when they were able to compete at off-season events with the robot that was built students that had graduated in 2020 and 2021. The Cougar Robotics team was very successful in off-season, winning both the Battle O' Baltimore and the CHSy Champs. 
January started a new season, called Rapid React, with a brand new game and new objectives for the robot to accomplish. This year the students, lead by the only Senior, Captain Carson Graham, was up for the challenge. With an all-new build team, several new programmers, and a few kind-of nervous mentors, the students collaborated and engineered a brand new robot from scratch. 
Teams are given six weeks to design, build and program a robot to meet new game challenges. This year's challenges include picking up and shooting 'cargo' at a hub in the center of the playing field, and traversing ascending monkey bars to earn big points during end game. 
The Cougars battled it out in DC at two different qualification competitions against 20 other teams, taking home the win at the final qualifier. Their robot, that they lovingly call "George" (since it can climb all four of the monkey bars), has gained great respect by the judges at each event. The team has been awarded the Quality Award, which celebrates machine robustness in concept and fabrication; and also the Creativity Award sponsored by Rockwell Automation which celebrates creativity that enhances strategy of play. 
Oakton's Cougar Robotics team earned enough points to score themselves a spot at the First Chesapeake District Championships this past week in Hampton, VA. Saturday night, after three long days of successful matches, 
Cougar Robotics learned that they had won another Quality Award and earned themselves a top ranking of 5th in the District, out of 112 teams. The Cougars were ecstatic to learn that their accomplishments had secured them a ticket to the World Championship competition, which begins April 20th, where they will compete against hundreds of teams from all over the world.  
Congratulations to Oakton's Cougar Robotics team on your journey for World Domination!